Press release
Thousands set to take control with Personal Health Budgets cash for care
Thousands of people around the country could soon have the freedom to design their own NHS care as Care and Support Minister, Norman Lamb announced the roll out of Personal Health Budgets today.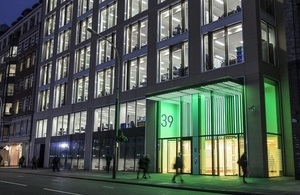 A Personal Health Budget is an amount of money given to someone, to help them design a package of care and support from clinicians and others. This means they have more control over the nature of the treatment provided, instead of simply getting care set out by the NHS.
The Government has been piloting personal health budgets at 20 in-depth sites for the last three years and an evaluation report published today has found that the quality of life for people with them has improved, with some even seeing a drop in their attendance at hospital.
The independent assessment of personal health budgets found that:
People's quality of life had improved;
If half of the people eligible for NHS Continuing Healthcare chose to take the offer of a budget, this could mean a potential saving of around £90 million;
The amount of times people had to attend hospital decreased overall.
The benefits seemed to be felt more strongly by people with the highest health needs. As a result, personal health budgets will initially be targeted at people who are already getting NHS Continuing Care, around 56,000 people, and others who clinicians feel may benefit from the additional flexibility and control that personal health budgets offer.  The Government will invest £1.5 million to roll out personal health budgets across the country.
Care and Support Minister, Norman Lamb, said:
"Independent analysis has now shown that personal health budgets can put people back in control of their care and make a significant difference to their quality of life. It's inspiring to hear the human stories of success that these budgets have brought to people.
"The evaluation shows that those with the greatest needs benefit most from personal health budgets. That's why we are giving people on NHS continuing healthcare the chance to get one first. And, I hope more people who could benefit will be given the option of one."
The roll out will mean that by April 2014 up to 56,000 people on the NHS Continuing Healthcare scheme will have the right to ask for a personal health budget if they choose one.
It is also hoped that clinical commissioning groups will offer a personal health budget to more people with a long term condition who may benefit.
**Mark Goldring, chief executive of Mencap, says: **
"People with a learning disability continue to experience poorer health and poorer healthcare than the general population. We welcome the introduction of Personal Health Budgets, which will give people with a learning disability the power to choose the health care that they need, and which will hopefully act as a positive step towards ensuring they receive the best health treatment possible."
National Charity, In Control, pioneered the concept of personal budgets in social care and is the main strategic partner to the Department of Health Personal Health Budgets programme.
**Julie Stansfield, CEO of In Control said: **
"We are extremely pleased, as we know many families will be, to see such strong evidence that enabling people to self direct their health support via personal health budgets is making a positive difference.
"Over the past four years we have worked with NHS staff across the country promoting and developing self directed support and personal budgets. Through these pilots we have seen a variety of people receive a personal budget and witnessed what a positive difference this has made to their lives.
"This is a fantastic achievement and it is welcome news that, very importantly, there are plans to expand the use of personal health budgets, regardless of the condition and logically, dependent on the level of need."
By tailoring care around the patient it can also help to improve health outcomes as is the case of Chelsea.  She suffered depression and was only up for four hours a day.  She felt trapped and she wasn't eating.  Her personal health budget helped her to get her own therapist.
Another example is Louise, who is 90, and has Alzheimer's disease.  Her personal health budget pays for personal assistants to care for her at home.  Her daughter Mary has said that Louise's quality of life has "increased exponentially".
People who choose to receive a personal health budget will get the information and support they need to make informed decisions and so select the care that works for them. The spending of the budget will be reviewed regularly every three to twelve months.
Notes to Editors
The evaluation report on personal health budgets can be found here.
£1.5 million has been allocated to the roll-out of the programme.
Names in case studies may have been changed to protect the patients identity.
Over 60 areas were involved in the pilot programme, 20 were part of the in-depth analysis reported in the evaluation, the others were part of the wider learning. The 20 in-depth sites are: * Avon, Gloucestershire, Wiltshire and Somerset Cardiac and Stroke Network (Swindon, Gloucestershire, Somerset and Wiltshire) * Barking and Dagenham * Bedfordshire * BHWP - Birmingham East And North (with South Birmingham) - LTCs bid * Central West London - Hammersmith and Fulham, Kensington and Chelsea, Westminster * Doncaster * Dorset * Eastern And Coastal Kent * Hartlepool & Stockton * Havering * Hull Teaching * Manchester * Medway * Merseyside (joint bid - Sefton, Knowlsey and Liverpool) * Norfolk * Northamptonshire Teaching * Nottingham City * Oxfordshire * Stoke On Trent * Torbay Care Trust
As we move from piloting to early rollout, all current pilot sites will continue to be able to offer personal health budgets Nine will become Going Further Faster sites, the leaders who will push ahead and implement personal health budgets at scale, including for people with long-term conditions. These sites are: * NHS Tees * NHS Manchester * NHS Hull * NHS Nottingham City * NHS Oxfordshire * NHS NENE and NHS Corby Clinical Commissioning Group in Northants * NHS Lambeth * NHS Dorset * NHS Kent and Medway
Published 30 November 2012