News story
Thousands of young people support Modern Slavery Bill
The Home Secretary has received a petition signed by more than 9000 young adults calling for an end to modern slavery.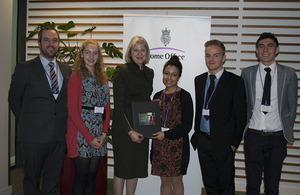 The petition calls for people to back the government's Modern Slavery Bill which will overhaul legislation to further protect victims and punish slave-masters. A group of young people aged 17-21 from Christian organisation 'Soul Action' presented the petition to the Home Secretary and explained their efforts to raise awareness of human trafficking among their peers.
The Home Secretary told the campaigners of her personal commitment to eradicate modern slavery.
The Home Secretary said:
Modern-Day slavery is one of the greatest evils of our time and requires everyone to make a stand for freedom and fight for justice on behalf of the millions who are trapped.

Thank you to the thousands of young people from Soul Action for ensuring that the voices of the enslaved are not lost.

We will continue to seek changes in the law and, with the help of young people like these, redouble our efforts to end slavery.
The government is due to introduce a Modern Slavery Bill in 2014. For the first time, it will consolidate into a single act the offences that are used to prosecute today's slave drivers. As well as improving the way victims are identified and supported, the Bill will work to prevent people from becoming victims in the first place by disrupting, convicting and imprisoning the criminals involved.
Tackling the criminal gangs behind slavery is also a central part of the Serious and Organised Crime Strategy and a priority for the new National Crime Agency.
Published 7 November 2013