Thousands of potentially dangerous slimming pills seized in raid
MHRA investigators seize more than 28,000 unlicensed slimming pills in Manchester area.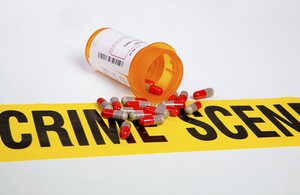 Investigators from the Medicines and Healthcare products Regulatory Agency (MHRA) have seized more than 28,000 unlicensed slimming pills with a value of around £52,000 in a raid in the Whitfield area of Manchester.
The pills known as 'Aduki Diet' pills were being sold online and claimed to contain only natural ingredients. However, when they were analysed, they were found to contain the dangerous ingredient sibutramine, a substance banned in 2010 due to the risk of heart attack and stroke.
MHRA Head of Enforcement, Alastair Jeffrey, said:
Selling unlicensed medicines is illegal. Anyone thinking of committing this type of crime should be under no illusions – they will be prosecuted if caught.

Customers purchasing these pills were tricked into believing they contained only natural ingredients when they actually contained a dangerous substance. These pills could pose a serious health risk and we strongly advise anyone who has bought them not to take them.

Those involved in the illegal supply of medicines aren't interested in your health - they are only interested in your money.

Please think carefully before purchasing medical products from internet sites as you have no idea where they have come from or what they might contain. If you do chose to buy medicines online you should only buy from a site that is registered with MHRA and displays the new EU common logo.

If you have any concerns about your health the best thing you can do is to see your GP and get a proper diagnosis.
Background
Medicines and Healthcare products Regulatory Agency is responsible for regulating all medicines and medical devices in the UK by ensuring they work and are acceptably safe. All our work is underpinned by robust and fact-based judgements to ensure that the benefits justify any risks. MHRA is a centre of the Medicines and Healthcare products Regulatory Agency which also includes the National Institute for Biological Standards and Control (NIBSC) and the Clinical Practice Research Datalink (CPRD). MHRA is an executive agency of the Department of Health.
Media enquiries
News centre
MHRA
10 South Colonnade
London
E14 4PU
Email newscentre@mhra.gov.uk
During office hours: 020 3080 7651 (08:30 - 17:00)
Out of office hours: 07770 446 189 (17:00 - 08:30)
Office hours are Monday to Friday, 8:30am to 5pm. For real-time updates including the latest press releases and news statements, see our Twitter channel at https://www.twitter.com/mhragovuk
Published 22 January 2016