News story
Thousands of military families helped onto the property ladder
More than 4,000 personnel have had applications approved to buy a home of under the Forces Help to Buy scheme.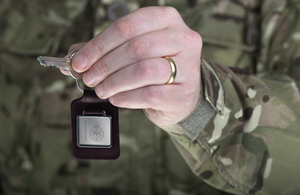 More than £40m has already been given to 2,700 applicants to enable them to buy their first homes or move up the property ladder since the initiative was launched less than a year ago. And a further 1,400 personnel have had their applications approved and are awaiting completion of property purchases.
The £200m scheme allows military personnel to borrow a deposit of up to half of their annual salary towards buying a home and has proved most popular with those between the ages of 20 and 39. The vast majority of recipients so far are non-officers.
Defence Secretary Michael Fallon said:
I'm delighted that Forces Help To Buy has proved such a huge success in less than a year. Helping thousands of our servicemen and women enjoy the security of owning their home is a great example of the support we give to them and their families in return for everything they do for our country.

Our commitment to providing quality accommodation demonstrates, once again, that we are honouring the core principle of the Armed Forces Covenant – that no service person or their families are disadvantaged by the contribution and sacrifice they make.
The Ministry of Defence's (MOD) continued commitment to providing quality housing for its personnel and families is also evident in a series of other current projects, including:
The first of three planning applications to build more than 900 homes on Salisbury Plain is due to be submitted this month. More than £800m will be spent on accommodating the extra 4,300 troops, plus their families, who are moving to the area under the Army basing programme. This includes investment in other supporting infrastructure such as offices, garages, workshops and mess facilities. The first application seeks permission for 246 homes at Ludgershall

Two new, single living accommodation blocks will be built at the Infantry Training Centre Catterick, at a cost of £10m

Four accommodation blocks containing 768 beds are being built for junior ranks at Defence School of Transport, Humberside
Published 5 March 2015