This week on the Foreign Office Global Conversations blog
Libya, Middle East and Japan were amongst the topics discussed by Foreign Office bloggers.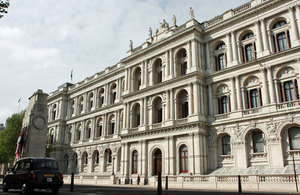 Foreign Office Political Officer, Barrie Peach published his first blog post from Libya. In his first entry he wrote "This is the first blog I've managed to post since my latest assignment working alongside the British Special Envoy to Libya, Christopher Prentice. I hope to post at least one per week during my time here in Benghazi."
Seiko Indo who works at the British Embassy in Tokyo discussed 'The earthquake: a month on' in her latest blog post. Additionally Tom Burn, Head of the Media and Communications team at the British Embassy in Tokyo discussed the role of 'Social Media' in a crisis.
The Team Head of the Provincial Reconstruction Team Michael O'Neill based in Lashkar Gah discussed Transition in his blog post noting that "As we continue this campaign, the focus is increasingly on passing the baton into Afghan hands - Transition, in the official jargon. That theme was well-captured in three events last week that each offered reasons to be positive about the future."
Looking ahead to April 17th 2011 which marks 500 days to the 2012 Paralympic Games, British Ambassador to Sweden, Andrew Mitchell noted on his blog "This means that in 500 days our generation will have the chance to put disability sport squarely on the map of London and show that the UK truly is a country that is welcoming, diverse, tolerant - and dynamic"
Published 15 April 2011