This week on the Foreign Office Global Conversations blog
Human Rights Report, Libya and Japan where amongst the topics discussed by Foreign Office bloggers.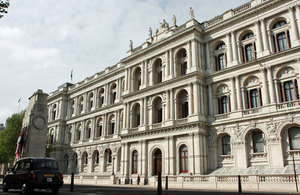 To coincide with the launch of Human Rights and Democracy: The 2010 Foreign & Commonwealth Report British Ambassador to Guatemala, Honduras and El Salvador, Julie Chappell discussed Human Rights projects that are supported in Guatemala and Honduras. Ambassador Chappell noted that "As well as these projects, our work will also continue to focus on the abolition of the death penalty in Guatemala and supporting Human Rights Defenders through the European Union's human rights group." Foreign Office Digital Communications manager, Amelia Bate explained why in respect of this year's Human Rights Report "we set out to make our annual reporting more accessible and interactive, and less costly than the traditional, glossy printed version of previous years".
Responding to the London Conference on Libya hosted by Prime Minister David Cameron and Foreign Secretary William Hague, UK Ambassadors and High Commissioners to Brazil, Kenya, Netherlands and the United States reflected on the Libya situation. Ambassador to the United States, Nigel Sheinwald noted that the London Conference was "an important opportunity for the international community to take stock of the situation there and plan for the coming weeks and months"
Foreign Office Minister Alistair Burt talked about his recent visit to a Jewish Cultural Centre in London to discuss Middle East issues.
The High Commissioner to Pakistan Adam Thomson in a video blog discussed the "benefits of strengthening UK-Pakistan trade and investment ties."
Ambassador to Greece, David Landsman, writing on the Wilton Park blog talked about the delivery of digital government.
The British Ambassador to the Philippines, Stephen Lillie, expressed 'Solidarity against child trafficking in the Philippines'. He also expressed strong support for "the efforts of the Visayan Forum Foundation and its partners in mobilising multi-sectoral support to end human trafficking in the Philippines"
Tom Burn, Head of the Media and Communications team at the British Embassy in Tokyo reflected on recent tragedies in Japan noting that "These past two weeks or so have been tiring and very busy for many of us at the Embassy. However, at all times, we remember that the people of Tohoku, in particular those coastal communities devastated by the tsunami, are going through a quite terrible upheaval in their lives. The loss of homes, loved ones and in places the towns themselves means that these communities will take time to overcome these events, but given the resilience, dignity and strength of those we met, we are confident they will do so. Our thoughts are with these people who have treated us so well at a time of quite unimaginable grief and loss."
Published 1 April 2011