This week on the Foreign Office Global Conversations blog:
Egypt, Kenya and Climate change were amongst the topics discussed by Foreign Office bloggers.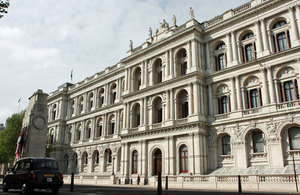 British Ambassador to Egypt James Watt discussed the trial of former President Mubarak and others. Ambassador Watt examined what this meant for Egypt:
".. First, with the world watching, Egypt is keen to show that the rule of law applies to all … Secondly, the trial itself will be a statement about the values that democratic Egypt holds to be important .."
Also Deputy Ambassador to Egypt, Thom Reilly focussed on the recent visit to Cairo by Foreign Office Minister, Alistair Burt:
"We walked around the outside of the circle of tents. I showed Mr Burt the medical tent, and then we went into the tent city. Mr Burt sat on the ground and chatted to activists who had been camped out in the Square since the 8 July."
Jan Techau, Director, Carnegie Europe writing on the Wilton Park blog described it as 'British soft power at its best.'
Matt Baugh The UK's Senior Representative for Somalia took the opportunity to explain why 'Somalia Matters to the UK'
'Kenya: Let's consign the death penalty to history' was the title of this weeks blog post from British High Commissioner to Kenya Rob Macaire.
Climate Change Policy Officer at our High Commission in Pretoria Catherine Pye issued a 'A call to business: Join the Climate Change debate.'
Lastly Ambassador to Bolivia, Nigel Baker published his last blog post from La Paz:
"This will be my last blog entry from La Paz. I am about to complete my mission here after just under four most stimulating and fascinating years in Bolivia. From later this month, I shall be taking up my new post as Her Majesty's Ambassador to The Holy See. My successor, Ross Denny, arrives in Bolivia in October."
Published 5 August 2011