This week on the Foreign Office Global Conversations blog
London 2012 Olympics, science and human rights were amongst the topics discussed this week by Foreign Office bloggers.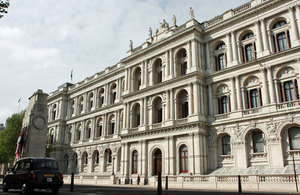 The countdown to the London Olympics was the main focus for our bloggers over the last week. Ambassador to Hungary, Greg Dorey was one among many with his blog post declared: "A year to go to the London Olympics!"
"… And all is on track for a great Olympics and Paralympics Games in 2012 - 90% of venues (and all the major ones) are complete and the Olympic Park will be delivered on time and within budget. These are sustainable and cutting-edge designs too, that will ensure a legacy economically and socially."
In Washington, British Ambassador Nigel Sheinwald looked at the committment to build a lasting legacy from the London Olympic 2012 games. He discussed one particular lasting legacy, Tech City:
"The long-term impact of the Games will be most visible in East London. Just a hop, skip, and a jump away from Olympic Park, high-tech developments in East London are attracting hundreds of innovative businesses. Companies at the cutting edge, like Cisco, Google and Facebook, are opening offices in Tech City and taking advantage of a government intent on helping businesses clear the hurdles of opening shop."
Additionally Foreign Office bloggers from Australia, Kenya, Guatemala, Japan, Jordan, Romania, The Netherlands, Armenia, Ukraine and the city of New York provided perspectives on what the London 2012 Olympics mean for the UK and the countries they are Ambassadors too.
Ambassador for Multilateral Arms Control and Disarmament, John Duncan published a 'farewell to Disarmament and Arms Control'. Ambassador Duncan in addition produced a podcast setting out a "very personal view on the need to adapt our approach to multilateral arms control and disarmament":
"… one that better reflects the extraordinary interdependence and interconnectivity of our modern networked world"
Foreign Office Digital Communications manager, Amelia Bate highlighted human rights in particular:
"the latest reports on the 26 countries where the FCO has the most serious wide-ranging human rights concerns. These cover April to June 2011, and are intended to highlight key human rights events in these countries, and to report on actions that the UK has taken over that time period"
Science and Innovation Officer, Nicole Arbour based at the UK High Commission in Canada hosted a guest video blog from the Chief Scientific Advisor to the Foreign Office, Professor David Clary. In this video Professor Clary shares his thoughts on science diplomacy.
Published 29 July 2011