This week at the Foreign Office
A look at the work of the Foreign Office and its embassies overseas this week.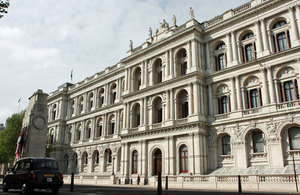 Indonesia State Visit
The Foreign Secretary William Hague met Indonesian President Yudhoyono this week during his state visit to the UK. The Foreign Secretary said: "This visit will be an opportunity for us to build on the strong partnership established over the last decade." President Yudhoyono also met with the Queen, members of the royal family and Prime Minister David Cameron. He also attended the UK High Level Panel meeting and gave a Wilton Park address on Indonesia's role as a regional and global actor. The Indonesian Foreign Minister Marty Natalegawa wrote a guest post about the visit for The Foreign Secretary's facebook page
Visit to hospital where Malala Yousafzai is receiving treatment.
The Foreign Secretary, the Emirati Foreign Minister and the Pakistani Interior Minister visited the hospital where Malala Yousafzai is receiving treatment in the UK. Malala was shot by the Taliban after campaigning for girls' right to education in Pakistan.
Click here to read more about the visit.
Arab Partnership
Foreign Office Minister Alistair Burt attended an event at the Foreign Office with DFID Minister Alan Duncan to mark the second anniversary of the Arab Partnership. He said: "We must have the strategic patience to partner with the region over the long term, to build the institutions needed for the long-term stability that will benefit all."
Click here for more information about the Arab Partnership.
Global Initiative to Combat Nuclear Terrorism (GICNT)
Foreign Office Minister Alistair Burt spoke at the GICNT symposium on the detection of nuclear material. He said: "We must prevent access to nuclear devices, materials and expertise by those who would seek to do us harm, while not impeding legitimate peaceful uses."
Read the full text of the speech.
**
Nasrin Sotoudeh**
Foreign Office Minister Alistair Burt urged the Iranian authorities to review the case of Nasrin Sotoudeh who remains imprisoned in Iran.
Also this week
In a first for the Foreign Office the British Ambassador to Lebanon Tom Fletcher took part in a google+ hangout on Syria.
Foreign Office Minister Alistair Burt welcomed the new Libyan Cabinet.
Foreign Office Minister Hugo Swire met the Burmese Charge d'Affairs to discuss concerns about the violence in Burma.
Published 2 November 2012