This week at the Foreign Office
A look at news from the Foreign Office and British Embassies around the world this week.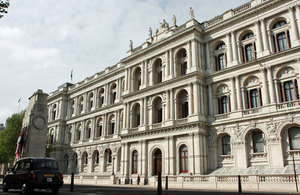 The Foreign Secretary William Hague, joined Prime Minister David Cameron's delegation of Cabinet Ministers and British industry leaders to India. During the visit, the Prime Minister wrote about the UK's relationship with India in The Hindu and the Foreign Secretary William Hague highlighted the two countries' shared interests, including on issues such as trade and investment, innovation and security.
The visit to India followed on directly from the Prime Minister's visit to Turkey, where he was again joined by the Foreign Secretary. The trip culminated with the signing of a UK-Turkey strategic partnership covering a range of areas of cooperation, including trade and investment, energy, defence and security.
Earlier in the week, Foreign Office Minister Jeremy Browne spoke about the importance of advancing the human rights agenda at an event hosted by Amnesty International and the All Party Parliamentary Group.
The Foreign Office marked the two years until the London 2012 Olympics by launching the first of our short films, this week's features Japanese Judo champion Kosei Inoue.
At the beginning of the week, the Foreign Secretary spoke following the announcement of the new EU sanctions regime against Iran. The sanctions are aimed at increasing pressure on the Iranian regime, so that they start negotiations on their nuclear programme.
The Foreign Office highlighted the increase in in child abduction cases during the summer months and warned people of the rules surrounding travelling with children.
Finally, the Foreign Office released two videos from Afghanistan, including one following the Foreign Secretary's visit to the city of Herat in western Afghanistan. The British Ambassador to Afghanistan, Sir William Patey, offers his reflections on the recent Kabul Conference in the second video.
Search the news archive
Published 30 July 2010