This week at the Foreign Office
A look at the work of the Foreign Office and its embassies overseas this week.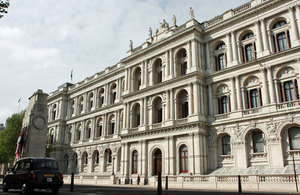 Foreign Secretary William Hague hosted the London Conference on Cyberspace on Tuesday and Wednesday this week.
The conference brought together governments, business and civil society with an aim to accelerate the debate on our digital future.
The debate continues online, follow @LondonCyber on Twitter and get involved using #londoncyber
Also this week he welcomed the announcement of a new Prime Minister for Libya, saying that this represents another important step forward for the country, as it looks to build a new society after years of tyrannical misrule under Qadhafi.
He commended the Arab League's efforts to stop the violence in Syria, saying that the Arab League's plan, agreed by the Syrian Government needs to be implemented quickly and fully.
On Wednesday the Foreign Secretary condemned Israel's announcement to accelerate the construction of 2,000 settlements following the successful Palestinian application for membership of UNESCO. The Foreign Secretary reiterated this when he met the Israeli Defence Minister in London on Thursday.
Foreign Office Minister Alistair Burt welcomed increased regional cooperation on Afghanistan when he attended the Istanbul Conference for Afghanistan on Wednesday.
Minister for Europe David Lidington visited Serbia to discuss prospects of Serbia meeting the remaining criteria towards EU candidacy.
On Tuesday the Government announced funding for a new desalination system to relieve the effects of drought in Tuvalu. Foreign Office Minister Jeremy Browne said that this assistance illustrates the long-term commitment of the international community to helping Tuvalu overcome its challenges.
Minister for Africa Henry Bellingham is accompanying the Prince of Wales on a visit to South Africa. You can see coverage of the Prince of Wales' visit on Storify.
The British High Commission in Barbados went into the community to give a local school a make-over, raising money, donating equipment and spending time with the school children.
Next week the Foreign Secretary and Climate Secretary will take climate questions from a youth audience in a Question Time style event next week. The session will be chaired by TV Presenter Rick Edwards, and streamed live.
Published 4 November 2011