This week at the Foreign Office
A look at the work of the Foreign Office in the UK and its embassies overseas this week.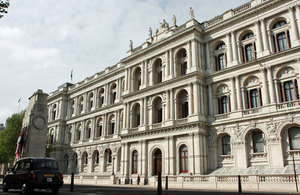 This week the UK led international action on Libya. Foreign Secretary William Hague discussed the situation with EU Foreign Ministers in Brussels on Thursday. Also in Brussels, Defence Secretary Liam Fox discussed the situation at the NATO Defence Ministers meeting.
Prime Minister David Cameron discussed the situation in an emergency European Council meeting in Brussels on Friday.
On Friday morning an 8.9 magnitude earthquake struck Japan bringing with it warnings for the Pacific basin. The Foreign Secretary and Prime Minister David Cameron said that the UK stands ready to provide assistance to the Japan.
On Tuesday the Foreign Secretary said that the Middle East Peace Process "must not become a casualty of uncertainty in the region" following his meeting with Palestinian President Mahmud Abbas.
He called on Iran to, "act in the interests of a stable and secure region" as NATO in Afghanistan confirmed that weapons seized in a recent operation by Afghan and ISAF forces were supplied by elements within the Iranian regime, destined for the Taliban.
Minister for the Middle East Alistair Burt travelled to Cairo to meet the Egyptian Prime Minister, other senior members of the transitional government and leading members of the political opposition during the 2 day visit.
The Minister also expressed concern following reports of attacks on journalists in Iraq.
Minister for Africa Henry Bellingham gave the UK statement to the UN Security Council in New York on the situation in Somalia.
Foreign Office Minister Lord Howell took part in two debates in the House of Lords on Thursday, one on Zimbabwe and the other on the British Overseas Territories.
In his speech The Commonwealth: A global network for the 21st Century, Lord Howell described the Commonwealth as , "a quite extraordinary association of like-minded states".
The Foreign Office expressed concern at deteriorating security situation in Cote d'Ivoire and condemned the recent violence against unarmed civilians.
And Foreign Office bloggers marked 100 years of International Women's Day celebrating the economic, political and social achievements of women around the world.
Published 11 March 2011