This week at the Foreign Office
News from the Foreign Office and its embassies overseas this week.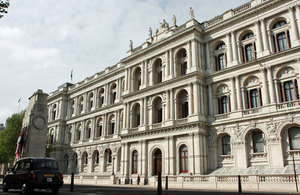 The Foreign Secretary started his week in Brussels for the Foreign Affairs Council. One of the areas discussed was the situation in the middle east.
He also laid a statement to Parliament on progress in Afghanistan, answered foreign policy questions from the public on Twitter and visited the Czech Republic with Minister for Europe David Lidington.
Minister for Africa Henry Bellingham gave a speech emphasising the UK's desire to build an economic partnership with Africa. On Tuesday, he stated his concern at growing tension in Cote d'Ivoire. Yesterday he welcomed the conviction of nine somali pirates in Seychelles.
The UN Security Council met on Wednesday in New York to discuss Iraq. Minister for the Middle East Alistair Burt represented the UK describing it as a "momentous day for Iraq and all Iraqis". After New York, he travelled to Atlanta to discuss the growing business links with the UK.
On Monday, Foreign Office Minister Jeremy Browne set out the Government approach to supporting democracy and free and fair elections overseas. Yesterday he laid a statement to Parliament on special assistance for British victims of terrorism abroad.
Foreign Office Minister Lord Howell answered questions in Parliament this week on repatriation of powers from the EU, the British Indian Ocean Territory fund and China's influence on Burma's economy.
We launched our latest See Britain film yesterday. In this film founder of Kids Company Camila Batmanghelidjh said "Brits dare to things differently, it's what makes this country exciting.
On Tuesday the UK Government's Envoy on Post-Holocaust Issues Sir Andrew Burns submitted a report on Holocaust education in Britain
British Ambassador to Sudan, Nicholas Kay discussed the upcoming referendum in Sudan in his latest blog.
A report commissioned in 1979 on British policy on Iran between 1974-1978 has been released. The report details the events leading to the Iranian revolution and allowed the Foreign Office to identify lessons that might be learned from the UK's reactions to and analysis of those events.
In Travel news this week, we covered blizzard conditions in the United States, strikes in Greece, and our High Commission in Australia published advice about surf safety
Our twelve blogs of Christmas series finished this week. Each blog was posted by a member of consular staff in one of our embassies around the world and talked about the joys and troubles that British nationals experience abroad at this time of year.
Published 17 December 2010