This week at the Foreign Office
A look at the work of the Foreign Office and its embassies overseas this week.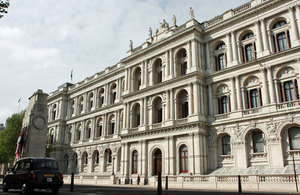 Remembrance Day
On Monday the Foreign Secretary honoured the memory of eighteen Foreign Office staff that died serving their country overseas.
Violence in Gaza and southern Israel
The Foreign Secretary called on Hamas to end its terrorism and violence and Israel to take every opportunity to de-escalate the situation. He said "The thing that would bring this most quickly to an end would be Hamas to stop launching rockets at Israel" he went on to say: "The onus now is on Palestinians to reconcile with each other, Hamas to commit to a deal instead of terrorism, Israel to seize that opportunity, and the outside world, including the United States, to help negotiations to restart".
Preventing Sexual violence in conflict
The Foreign Secretary gave a speech at Wilton Park and announced that a British specialist team of 70 experts is now ready to be deployed to conflict and post conflict areas to support the UN and civil society in investigating allegations of sexual violence. The Foreign Secretary said: "Our generation has the opportunity, and the responsibility, to confront the use of rape and sexual violence as a weapon of war."
Syria
The Foreign Secretary hosted an international meeting with Syria's new Coalition leaders to discuss how to assist the people of Syria and build links with the new coalition. The Foreign Secretary outlined the priorities: to increase our humanitarian assistance, to better coordinate our practical support to people in opposition held areas on the ground, and to keep up the pressure for a diplomatic solution.
Gibraltar Incursions
The Foreign Office summoned the Spanish Ambassador in order to underline concerns. Foreign Office Minister David Lidington condemned the incursions and urge the Spanish government to ensure that they are not repeated.
British Embassy in El Salvador
Foreign Office Minister Hugo Swire opened a new British Embassy in El Salvador he said: "We have been away too long and this much-overdue Embassy signals just how serious we are about expanding in the region." The Minister also gave a speech on Britain in Latin and Central America in El Salvador
Arab Partnership.
Minister Burt met participants of the John Smith Trust programme, funded by the UK's Arab Partnership. Wafa' Nimri from Jordan said the programme showcased "a system where collaborative ideas flourish and people are questioned and held to account. I loved it, it's hands-on and spot-on."
Also this week:
Published 16 November 2012