Third round of UK-Israel strategic dialogue held in Jerusalem
FCO Permanent Under-Secretary Simon Fraser heads high-level delegation for the third UK-Israel Strategic Dialogue.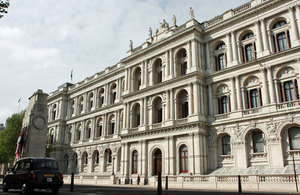 Simon Fraser
Foreign Office Permanent Under-Secretary and Head of the Diplomatic Service Simon Fraser headed a high-level delegation of British officials visiting Israel for the third UK-Israel Strategic Dialogue. The Israeli delegation was headed by Ministry of Foreign Affairs Director General Rafi Barak.
The strategic dialogue is a central part of the partnership between the two countries. Officials from across both governments participated in the talks, which focused on the recent regional turmoil and wider regional developments, and the need for progress on the Middle East peace process. A special session was devoted to the shared concern about Iran's nuclear programme.
Speaking after the talks, PUS Simon Fraser said: "Today's talks were a demonstration that we see Israel as a strategic partner. Not only do we enjoy a close relationship on issues such as security cooperation, but we are also determined to develop a partnership in areas like science and high-tech industry, where both our countries are world leaders and natural partners. We also discussed the Peace Process where I stressed again how important it is for Israel to return to negotiations on the basis set out by President Obama."
This is the third High-Level Strategic Dialogue. Both sides committed to continuing the talks on an annual basis.
Published 7 July 2011