Press release
Third Energy applies for permits to frack in North Yorkshire
Third Energy UK Gas Ltd has applied to the Environment Agency for the relevant permits to carry out fracking at a site in North Yorkshire.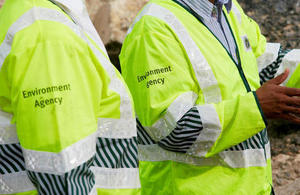 The company plans to carry out hydraulic fracturing, known as 'fracking', for shale gas in an existing borehole at Kirby Misperton, near Pickering.
The Environment Agency is seeking views from the local community and interested groups on the applications. The public consultation runs from Wednesday 10 June until Friday 10 July.
The application documents will be available to view online from 10 June. Hard copies will also be available to view at the Environment Agency's offices in York and Leeds.
A public drop-in session is also being held to allow people to find out more about the Environment Agency's role in onshore oil and gas permitting and regulation. The event will run at Kirby Misperton Village Hall on Tuesday 16 June from 12 noon to 8pm.
Martin Christmas, Environment Manager at the Environment Agency, said:
Our regulatory controls for onshore oil and gas are in place to protect people and the environment. We will now assess the proposals to ensure they meet our strict requirements.

We welcome comments from the public and interested groups on local environmental factors that people feel are important.
To access the application documentation (available from 10 June 2015), visit the consultation website
People can comment on the proposals by emailing PSCpublicresponse@environment-agency.gov.uk or by writing to the following address:
P&SC – Land Team
Quadrant 2
99 Parkway Avenue
Sheffield
S9 4WF

Published 8 June 2015