Theresa May responds to police pay review
The Home Secretary has today pledged to consider the findings of a wide-ranging review into police pay and conditions.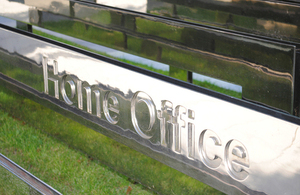 Former rail regulator Tom Winsor published the first of two reports after studying how the service remunerates its officers and staff. You can read his report on the review website.
Retired chief constable Sir Edward Crew and leading labour market economist Richard Disney provided expert assistance.
Fair and reasonable rewards
The Home Secretary thanked Mr Winsor and his team for their work when she received the report today and promised to consider its results carefully.
She said: 'Police officers should be rewarded fairly and reasonably for what they do. That is why I asked Tom Winsor to undertake one of the most comprehensive reviews of police pay for more than thirty years and make recommendations that are fair both to the taxpayer and police officers and staff.  
 
'We struck a tough but fair settlement for the police in the spending review but with a record budget deficit, we are in extraordinary circumstances. With three quarters of the police budget spent on staff, changes to pay and conditions have to be part of efforts to protect police jobs, keep officers on the streets and cut crime.  
 
'But this isn't just about money, it's about reform of our police service. To fight crime, we need a modern and flexible workforce that helps chief constables manage their resources, maximise officer time and improve the service to the public.'
Follow-up document in June
Mr Winsor was appointed to lead the independent review by the Home Secretary in October. The report published today was on possible short-term improvements to policing. He is due to release a follow-up document on longer-term changes in June.
His review team was asked to consider how pay and conditions could be used to maximise deployment to the frontline, to make sure rewards are fair to taxpayers as well as for staff and officers and to introduce more modern management practices.
The Home Secretary added: 'I am very grateful to Tom and his team for their work on this important review which I will now consider very carefully. 
'And of course it will also be subject to consideration by the police negotiating bodies.'
In line with all decisions on changes to police pay and conditions, the Police Negotiating Board (PNB) would have to discuss any recommendations fully before they can be introduced.
The PNB is made up of representatives from the Home Office, the Association of Police Authorities, the Association of Chief Police Officers and officer staff associations.
What happens now?
The Home Secretary will consider carefully all of Tom Winsor's findings before taking any further action. No changes will be introduced without full discussion by the PNB.
Why don't you just introduce the changes now?
It is for the Home Secretary to set terms and conditions for police officers, but under statute changes must be discussed by the PNB before they are introduced. The Home Secretary will consider Tom Winsor's recommendations carefully.
Once she has studied the report, the Home Secretary can ask the PNB to consider all or some of Tom Winsor's findings and give them a deadline by which a response is required.
The PNB can discuss other factors in addition to those required by the Home Secretary in reaching its eventual verdict. Police staff are employed by police authorities, who must decide their own reaction to the review - terms and conditions for police staff are not set by the Home Secretary.
When will all of this happen?
The Home Secretary must first study the report. If she decides that she wishes to implement some or all of the recommendations, she can require the PNB to report by a certain date, but the meeting schedules of the PNB are determined by board members.
What is the PNB?
The PNB was set up in 1980 to help determine police officer pay and conditions. It is a UK-wide organisation, but the Winsor report only pertains to England and Wales. It comprises equal numbers of members from the official side (Home Office, ACPO and APA plus equivalents from devolved administrations) and the staff side (Police Federation, Superintendent's Association and Chief Officer Staff Association plus equivalents from devolved administrations).
An independent chairman and deputy are appointed by the Prime Minister. Where members cannot reach agreement, the matter can be considered by the Police Arbitration Tribunal (PAT). This is made up of three independent arbitrators appointed by the Prime Minister.
Decisions by the PNB and the PAT are not binding on the Home Secretary, but she has to taken them into account before reaching a final decision on changes to terms and conditions for police officers.

Transcript for Theresa May reacts to Winsor report on police pay
Published 8 March 2011