Theo, a Springer spaniel cross who holds the record for finding the most improvised explosive devices and weapons in Afghanistan, has had his tour extended due to his amazing success.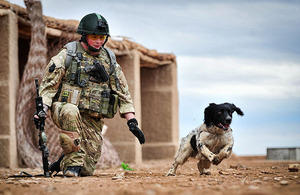 Theo is an Arms and Explosives Search (AES) dog. The 22-month-old 'superhero' spaniel and his handler, Lance Corporal Liam Tasker, are part of the Theatre Military Working Dog Support Unit (TMWDSU) based at Camp Bastion.
Theo is on his first tour of duty in Afghanistan. A tour is normally six months, with the dogs then returning to their home at 104 Military Working Dog Support Unit at North Luffenham, Rutland, but due to his success rate, Theo's tour has been extended by a month.
Before coming to Afghanistan, Theo had to undergo a rigorous period of training to ensure he would meet the highest standards expected of the dogs in the TMWDSU. The first stage was 16 weeks' basic training and assessment before being given to a handler. Theo and Lance Corporal Tasker then spent 15 weeks on a handlers' course, where man and dog learn to work as a team.
As an AES dog, Theo's task is to locate weapons and IEDs. He is normally the 'front man' of the patrol, sniffing out any hidden devices. In Theo's first five months of duty he notched up 14 operational finds.
Lance Corporal Tasker said:
I love my job and working together with Theo. He has a great character and never tires. He can't wait to get out and do his job and will stop at nothing.
Lance Corporal Tasker initially joined the Army as a mechanic and spent six years with the Royal Electrical and Mechanical Engineers. He did not know the TMWDSU existed until a friend showed him some videos of the dogs in action. He decided to switch jobs and has not regretted it for a second.
Lance Corporal Tasker's six-month tour has not been extended, but Theo will be in the excellent care of the TMWDSU and its handlers during his extra month in theatre.
The TMWDSU has over 50 dogs, many of which are spaniels. They are trained as protection or search dogs. Theo was donated by a member of the public. Other dogs have come from dogs' homes or the RSPCA. All of them provide an invaluable service to the troops in Afghanistan and their work has saved many lives.
Please note that since this story was published Lance Corporal Tasker was sadly killed in Afghanistan and his dog Theo subsequently died after suffering a seizure.
Published 14 February 2011