News story
Theo Paphitis calls on apprentices to put their skills to the test
The UK's most talented invited to put their skills to the test and enter the WorldSkills UK national competitions.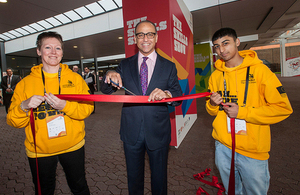 WorldSkills UK, part of the Skills Funding Agency, manages skills competitions across the UK alongside its partner organisations.
Theo Paphitis, patron of WorldSkills UK – The Skills Show, is calling on the UK's most talented to put their skills to the test and enter the WorldSkills UK national competitions.
The competitions inspire young people and adults to be ambitious in their pursuit of skills to the highest level. Entering the competitions is proven to catapult a person's career and taking part enables a competitor to build on their skills, test their knowledge against peers in industry and showcase their potential.
Competitors who are successful in the regional heats and reach the finals of the WorldSkills UK national competitions will battle it out to be 'named the best in the UK' in their chosen skill in front of over 80,000 visitors at The Skills Show.
The Skills Show takes place from the 13 – 15 November 2014 at the NEC Birmingham.
WorldSkills UK also selects and trains competitors for the International WorldSkills Competition. Most squad UK representatives will have demonstrated their talent through skills competitions at regional and national level.
Theo Paphitis, patron of The Skills Show said: "The WorldSkills UK competitions showcase and celebrate the high levels of talent entering the UK's workforce. They reward real talent and I hope this will show everyone how apprenticeships and vocational training can lead to worthwhile careers. If you or anyone you know has what it takes to become the best in their industry, then please encourage them to get involved."
WorldSkills UK national competitions are run in the following industries:
construction
engineering
cultural and creative,
professional Services
IT
business administration
Apprentices and learners can register to enter WorldSkills UK Competitions until 21 March, 2014.
For more information visit http://www.worldskillsuk.org/ and watch the WorldSkills UK industry sector films on Youtube.
Published 10 February 2014