Press release
The world Revealed in five dramatic displays
A fascinating new exhibition uncovering five centuries of artistic creativity will open to the public tomorrow (Friday 15 March) at the Ulster Museum.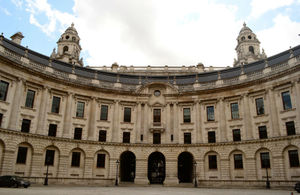 The exhibition - Revealed - will feature more than 160 works from the UK Government Art Collection, usually displayed in official residences and government buildings around the world Divided into five sections, Revealed presents different aspects of the Collection's role from the selection and commissioning of works to their use in new or refurbished government buildings. The selections highlight how the Collection often makes cultural, historical or geographical connections between the works and the locations in which they are displayed.
In a fresh approach to developing exhibition content, the Government Art Collection invited personal choices from politicians and ambassadors, giving an insight into the role played by art in cultural diplomacy. Equally novel is the selection by staff from 10 Downing Street of art they encountered in their daily working lives. Selections by artist Cornelia Parker and historian Simon Schama provide unique and intriguing perspectives on the Collection in all its richness and variety. The final selection focuses on the GAC commissioned artworks that include a recent multi-media installation from the artist Mel Brimfield.
Spanning hundreds of years, the fabulous exhibition showcases work by artists as diverse as Walter Sickert, L.S. Lowry, Andy Warhol, Tracey Emin and Turner Prize winners Martin Creed, Rachel Whiteread, Gillian Wearing and Grayson Perry. Subject matter is equally various, ranging from Bryon to the Beatles.
Tim Cooke, Director of National Museums Northern Ireland, said,
We are delighted to be working in partnership with the Government Art Collection to stage this special exhibition.
Revealed offers visitors to the Ulster Museum a unique opportunity to explore a stimulating range of art and brings works by a number of different artists to Northern Ireland for the first time.
Penny Johnson, Director of the Government Art Collection said,
This exhibition will offer visitors to Ulster Museum the chance to see the extraordinary breadth of works of art that normally hang in UK Embassies, High Commissions and other official residences and buildings around the world. I'm particularly pleased that we've been able to bring all these engaging works, dating from the 16th century to the present day, together under one roof here in Belfast.
To accompany the exhibition, the Government Art Collection has produced a free gallery guide to illustrate all the works within the exhibition. The guide also features two essays by Cornelia Parker and Simon Schama.
Kim Mawhinney, Head of Art at National Museums Northern Ireland, said
Coinciding with exhibitions showcasing Irish landscape painting and the work of Belfast artist John Luke, this exhibition offers an opportunity to see the historic and contemporary work of world-renowned artists. We hope that visitors will enjoy this display of work from what has been described as 'a challenging, unconventional art collection'.
The exhibition will be accompanied by a series of events including special tours, talks and lectures. For further information visit www.nmni.com.
Revealed will be on display at the Ulster Museum until 9 June 2013. Admission is free.
Notes to Editors
The Revealed exhibition artwork is presented in five different sections, with each theme reflecting a different aspect of the Collection:
At Work - this section presents works chosen by public figures who have worked or lived alongside the art in roles ranging from British High Commissioner to South Africa to the staff at 10 Downing Street. Highlights include a 16th-century portrait of Queen Elizabeth I and Reflection by Bridget Riley, displayed at the British Embassy in Cairo and more recently at 10 Downing Street.

Richard Of York Gave Battle In Vain - Leading British artist Cornelia Parker has selected works which reflect her personal response to the Collection. She chose to arrange the works in this section by colour, making a playful reference to the colours associated with political parties. Her colour spectrum ranges from the bright yellow of Martin Creed's neon sculpture THINGS, to the royal blue background in Andy Warhol's portrait of Queen Elizabeth II.

Travelling Light - Historian and cultural commentator Simon Schama selected works of art from the Collection that explore ideas of travel. His choice includes the famous portrait of the Romantic poet and famous traveller, Lord Byron, by Thomas Phillips' and Edward Lear's painting View of Beirut.

12 From No.10 - Non-political staff working in No. 10 Downing Street, such as David, the Facilities Manager, and Ian, custodian, were invited by Government Art Collection to select work that has been shown in this historic building over the years. Their choices included the 1836 portrait of Lord Byron's daughter and scientist, Ada Lovelace, by Margaret Carpenter and videos by the artistic duo Wood & Harrison.

Commissions: Now and Then - The Government Art Collection began to commission works of art directly from artists over 60 years ago. Many of these works were commissioned for new embassy buildings and to record important national events. This display includes commissions such as Catherine Yass' colour transparencies of the British Embassy in Paris in the day and evening light.
Media Contact: Joris Minne, JPR, joris.minne@jprni.com and Jane Williams, jane.williams@jprni.com Tel: 028 9076 0066 / 07876 218 978
Published 15 March 2013