World news story
The UK's Sir David King talks climate and energy policies in NZ
Former UK Chief Scientific adviser Sir David King talked energy and climate policies during his stopover in Wellington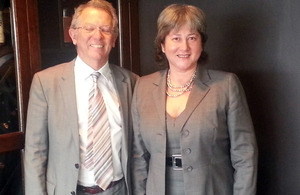 Former UK Chief Scientific adviser Sir David King stopped long enough in Wellington this week to talk over climate and energy policies and his current interest in sustainable cities. His visit lends support to recent UK missions to New Zealand dealing with clean technologies, wind and wave energy, and greenhouse gases emanating from agriculture.
The British High Commission has hosted more than 30 specialists from the UK over the last two years to explore collaboration with their NZ counterparts in the area of R&D which shows promise of realising commercial benefits. As a result, several UK companies are developing links in New Zealand in biomass fermentation, biofuels, wind and wave energy.
High Commissioner Vicki Treadell hosted Sir David in a wide ranging discussion with Mike Underhill of NZ's Energy Efficiency and Conservation Authority, Paul Atkins of the National Energy Research Institute, Steve Thompson of the High Commission and Massey Professors David Frame and Robert McLachlan. Discussion ranged from the economics of marginal pricing through regulation and parliamentary scrutiny to how people react to environmental signals.
Sir David also gave three public lectures at Massey campuses on human well-being on a resource-limited planet before going on to Canberra before returning to the UK, where he is now Professor and Director of Research in Physical Chemistry at Cambridge University.
Published 28 May 2013