The UK's response to the Arab Spring
Two years on the UK's Arab Partnership program is helping to turn aspirations into real tangible results.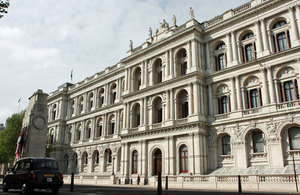 Speaking before an event this evening to celebrate the achievements of the Arab Partnership Foreign Office Minister Alistair Burt said:
"Today marks the second anniversary of the UK's Arab Partnership programme - our response to the unprecedented change of the Arab Spring. People in countries across the region demanded more open and accountable societies and a better future for themselves and their families. Our work over the last two years, with charities, local groups, international partners and civil society is helping to turn those aspirations into real, tangible results.
"We can be rightly proud of our blueprint for engagement with the region - one that is based on our values and national interests and sensitivity to each country's own experience of the Arab Spring. Through local projects on the ground, the UK is supporting those in the region to build a more stable, prosperous and inclusive Middle East. To date we have committed almost £50m in 16 different countries to support free and fair elections in Libya - a landmark moment in that country's history, voter education for women and young people in Tunisia, support for young entrepreneurs in Algeria and the development of a free press in Tunisia.
"As we reflect on the changes of the last two years, clear challenges remain, not least the economic troubles facing some countries in the region and the terrible ongoing violence in Syria. But we remain firmly optimistic about the Arab Spring. The people of the region have made impressive strides, and through the Arab Partnership the UK has stood by them. These countries are only at the beginning of a journey of change that will span generations. We will continue to support them in their common desire for a future based on dignity, liberty and justice.
Minister of State for International Development, Alan Duncan, said:
"Economic growth is key both to ensuring long-term stability in the region and to reducing poverty. Let's not forget Mohamed Bouazizi, the street vendor who catalysed the revolution in Tunisia. Like him, millions of young people have been shut out of work opportunities in a region with the highest rate of youth unemployment in the world.
"This is exactly why the Arab Partnership Fund is supporting inclusive, poverty-reducing economic growth, through supporting job creation, skills for employment, integrated trade, and effective, accountable institutions."
Published 31 October 2012