The UK's contribution to freeing Libya
At its peak the UK had around 4,000 personnel, 37 aircraft and four ships committed to the operation to support Libyan civilians under threat from Colonel Gaddafi's regime.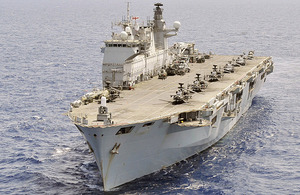 NATO's Operation UNIFIED PROTECTOR officially ended in October 2011, since when most of the UK Service personnel who played their part in helping the Libyan people oust Gaddafi's regime have returned to embraces from their families and plaudits from the politicians.
At RAF Waddington, the Deputy Prime Minister, Nick Clegg, welcomed home the servicemen and women who were the UK's air component.
Mr Clegg praised them, saying that they had played a vital role in the mission:
There can be no doubt that without your efforts thousands would have been killed. Because of you, the guardians of freedom, the Libyan people have hope for their future.
I am here to pay tribute to you. My thanks, the nation's thanks and the thanks of the people of Libya go with you.
At its peak the UK had around 4,000 personnel, 37 aircraft and four ships committed to the operation. The UK flew more than 3,000 sorties and more than 2,100 of these were strike sorties, hitting around 640 targets.
From the sky
As part of that, RAF Tornados and Typhoons notched up a hit rate in excess of 90 per cent with their Brimstone precision guided missiles.
The RAF Typhoon attracted many plaudits for its performance, first enforcing the no-fly zone then moving smoothly into a ground attack role. Squadron Leader Sid Sidney, in charge of the Typhoon ground crew, said:
The threat was real. Gaddafi had good air defences that had to be dealt with. But with the Typhoons and Tornados working together, people soon got the idea that it wasn't a great idea to take us on.
Operation ELLAMY, the name for the UK mission to enforce the United Nations resolution to protect Libyan citizens, showcased the UK's military capability and the professionalism of all Service personnel working together.
For example, to complete the 3,000-mile (4,800km) round trips from the UK, Tornado GR4s needed to be refuelled three or four times in mid-air by TriStars and VC10s.
Thanks to surveillance air crews flying thousands of hours in Sentinels, E-3D Sentry aircraft and Nimrods, up-to-the-minute information was provided for mission planning and to make sure that ground attacks struck key targets with clinical precision.
The logistics for the operation were on a major scale. C-17s and C-130 Hercules established a daily airbridge between the UK and Italy to get supplies and people to where they needed to be. On one occasion that even included delivering 40 tons of currency to Benghazi:
It filled the aircraft," said Flight Lieutenant Chris Powell.
Keeping the aircraft safe and looking after associated equipment and personnel was the job of the RAF Police. Sergeant Mark Robson said:
Some of the VIPs we had to look after included the Prime Minister and the Secretary of State. We also had to repatriate two journalists who had been killed.
Ground support
Weapons technicians sweating their way through 14-hour shifts, often in 40-degree heat, toiled round the clock to keep the aircraft working and loaded up with the right bullets and bombs for each mission.
Because the Typhoon is so versatile, the way that it needed to be configured would vary depending on what task it had to do. Sergeant Darren Bumby, who worked on it, said:
A full four-bomb refit would take an hour to an hour-and-a-half and another twenty minutes to make sure the weapons were talking to the aircraft.
Although the crews would receive day-to-day updates about how the aircraft should be configured, the requirement could change up to two hours before take-off:
But that was OK. It was good for our morale and great for our esteem for the squadron to see what we can do, at our full potential," said Sergeant Bumby.
Keeping everyone fed at the UK's main operating base in Gioia del Colle, Italy, initially fell to 3 Mobile Catering Squadron.
Warrant Officer Willie Dixon helped operate the 500-man tented kitchens:
The first meal was cottage pie. It went down really well. We were providing 24-hour messing for 650 people," he said. "We did the laundry too, the first time we had on operations.
Oceans of helicopters
Five Apache helicopters of 656 Squadron, 4 Regiment Army Air Corps (AAC), along with 90 soldiers embarked on HMS Ocean, conducted missions from the Royal Navy's biggest warship.
Major Mick Neville, Officer Commanding 4 Regiment AAC, said:
In Afghanistan we are used in a reactionary way, giving support to guys on the ground, so it was nice to be involved in deliberate targeted operations.
The Apache teams fired off 99 Hellfire missiles and 4,800 cannon rounds, hitting more than 100 targets in 22 missions:
That's demanding flying," said Major Neville. "The threat from Gaddafi's air defence systems was significant and professional. In places, Gaddafi's troops were very well equipped and trained and well-motivated. It was very kinetic and professionally challenging.
Major Neville added that all of the Apache's £50m capability was put to the test. And it proved to be worth it.
After every sortie, post-mission reconnaissance proved their efforts had directly affected the front line, sometimes pushing it back five kilometres in a single night. Captain Matt Sandbach said:
People even found the sound of us coming menacing. Anyone who shot at us soon learned that we could avoid and reply within seconds.
Working alongside the Apaches were the Royal Navy Sea King helicopter crews who helped to refresh the Army pilots' skills flying off and returning to warships and provided them with eye-in-the-sky surveillance.
Lieutenant Commander Colin McGannity said:
We fly higher than the Apaches so we could tell them where it was safe to route in without being detected. It was a similar job to the surveillance we do in Afghanistan, pointing other assets at potential targets and bringing back data for the intelligence guys.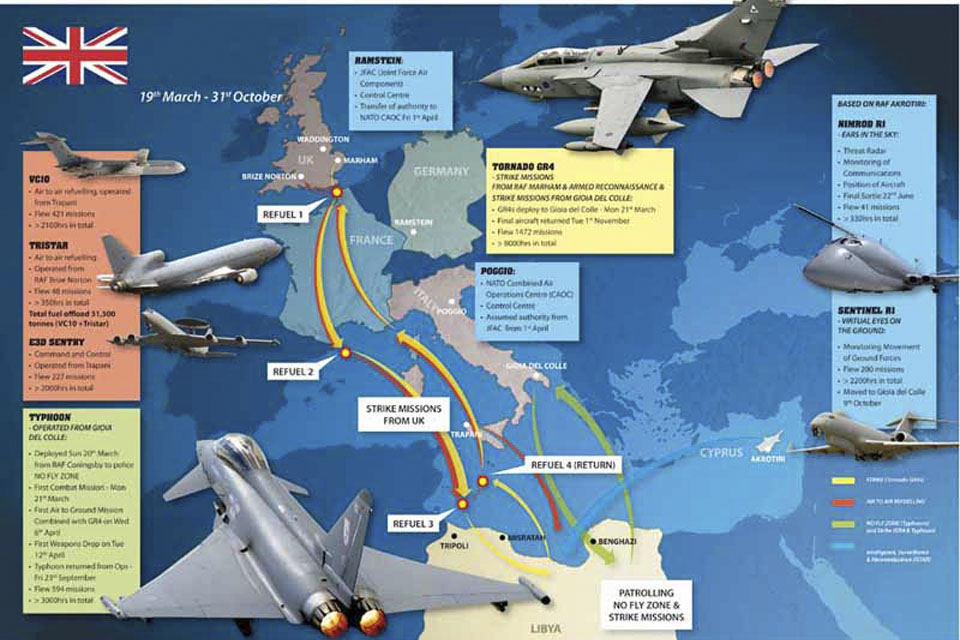 Operating from HMS Ocean, the two Royal Navy Sea Kings notched up 99 operational missions, and thanks to the engineering team they had a serviceability of 96 per cent:
After Afghanistan it was nice to get back to some maritime flying," said Lieutenant Commander McGannity, a sentiment observer Lieutenant Cheryl Gilbertson agreed with: "I liked working from a ship, it's what I joined the Navy to do.
There was a great team spirit aboard Ocean, Lieutenant Gilbertson said, and she paid tribute to the Army pilots flying the attack helicopters:
We would find the targets for them and check the comms, but you wouldn't want to take anything away from them flying the combat missions.
They had a massive job to do, so we were happy to help in any way we could. We were all flying those missions really.
Royal Navy power
Sixteen vessels of the fleet, both surface and submarine as well as Navy helicopters, helped maintain the no-fly zone and choke off the supply of arms to pro-Gaddafi forces from the sea.
HM Ships Liverpool, Cumberland, Iron Duke and Sutherland gained and held control of Libyan waters and bombarded military checkpoints and rocket batteries ashore.
HMS Liverpool's ship's company spent more than 80 hours at action stations across 28 separate occasions.
During her stint the Type 42 destroyer was fired on and returned fire 10 times and launched 211 rounds of high explosive shells, lighting up targets for NATO aircraft to destroy.
Leading Steward Andrew Barnes recalls:
The first time we went to action stations was quite disconcerting for some of the lads, but after a while it became second nature. You rely on your training and just get on with your job.
HMS Liverpool also distinguished herself in the air with her fighter controllers directing aircraft and taking responsibility for the entire battlespace management area on no less than 13 occasions.
Meanwhile Navy submarine HMS Triumph undertook 80 days of patrols and demonstrated the precision effect of her Tomahawk cruise missiles.
As part of their mission to enforce the UN arms embargo, the Navy frigates while patrolling the Libyan coast boarded and inspected 123 merchant vessels, as well as undertaking surveillance operations.
Key to the maintenance of sea supremacy were the warships' Lynx helicopters. Flying at night and using their own radar, so that the ships could maintain radar silence, the aircraft identified ships and small boats and attacked them when called on to do so.
Minehunters HM Ships Brocklesby and Bangor also played their part in finding and destroying mines which had been laid, often from small rigid inflatables, and threatened the flow of humanitarian supplies:
You could hear the shells landing in Misurata and the NATO aircraft flying overhead - but it was a great feeling to know we had made a meaningful contribution," said Brocklesby's Able Seaman Phillip Perkins.
All the UK assets were supported by Royal Fleet Auxiliary vessel Fort Rosalie, which provided vital stores and fuel. HMS Liverpool alone conducted 40 replenishment at sea operations.
Welcoming HMS Liverpool home in Portsmouth, Defence Secretary Philip Hammond said:
We are grateful to you and proud of you. You have demonstrated the power of the Royal Navy.
Published 5 January 2012