The UK & Austria: A valued partnership
Foreign Secretary William Hague met Austrian Foreign Minister Dr. Michael Spindelegger on 11 November.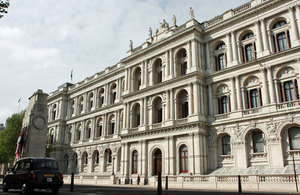 Speaking after the meeting, the Foreign Secretary said:
"It has been a great pleasure to welcome my friend and colleague here today. We discussed a wide range of global issues, including the Middle East Peace Process and the situation in Sudan. We will both be attending the meeting next Tuesday of the UN Security Council in New York on the issue of Sudan. I'm very grateful to Michael for coming to that meeting, which I have convened since the UK holds the presidency this month.
We also discussed many of the European Union issues as well, the EU budget for the External Action Service, policies towards Russia, and the Western Balkans in particular. It's true to say that the United Kingdom and Austria have very close relations in foreign affairs, and this is a very valued partnership for the United Kingdom."
Published 13 November 2010