The UK and Libya are building a strong relationship across the board
Minister for the Middle East and North Africa Alistair Burt comments on his meeting with Libyan Deputy Defence Minister on 14 June 2012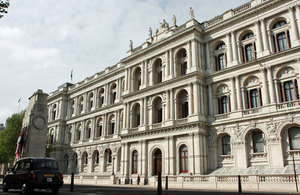 Yesterday FCO Minister for the Middle East and North Africa Alistair Burt MP met Libyan Deputy Defence Minister Al-Sadig Al-Mabrouk Ahmed Elghaite.
Discussion centred on plans for upcoming national elections and measures to address current internal and border security challenges, including the expertise UK business can provide in this regard. Earlier in the week Mr Mabrouk signed a "Statement of Intent" with Minister for the International Security Strategy Gerald Howarth. This Statement commits both Governments to work together, including with UK industry, to help prevent the movement of arms and illegal migrants through the Sahel region.
Speaking following the meeting, Mr Burt said:
"This visit is further evidence of the strong relationship the UK and Libya are building across the board, and this week's agreement of a Statement of Intent on border security is a clear demonstration of our commitment to work closely together on shared priorities.
"We discussed the security situation in the country. I raised the importance of ensuring the security of our diplomats following the attack on Monday in Benghazi, as well as the need for greater stability in Eastern Libya. Mr Mabrouk expressed his concern about the attack, and outlined some of the challenges currently being faced by the Transitional Government, including efforts to integrate former fighters into the army and police.
"We also discussed progress in the transition to democracy. The UK remains fully supportive of the new Libya as we look towards Libya's first ever national elections in July".
Published 15 June 2012