"The Syrian people's legitimate demands have to be recognised"
The UK has called for an end to the violence in Syria at the Human Rights Council in Geneva.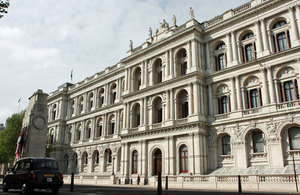 Permanent Representative to the UK Mission to the UN in Geneva Peter Gooderham delivered the following statement on 22 August:
"Madam President,
The United Kingdom supports the statement delivered by Poland on behalf of the EU.
We welcome the holding of this urgent special session today. Since the last time this Council met, the situation in Syria has deteriorated dramatically. The violent repression of citizens exercising their right to protest peacefully is completely unacceptable and must stop immediately.
The UK thanks the High Commissioner and her Office for their work to investigate the situation in Syria. We welcome the High Commissioner's briefing today and publication of the Fact Finding Mission's report. The report provides clear evidence of the Syrian government's blatant disregard of the human rights of its citizens. The report's shocking documentation of a series of gross violations, including torture, arbitrary detention, murder and enforced disappearance should provide a wakeup call to the international community.
There can be no legitimate justification for the severity of the measures taken by the Syrian authorities in their efforts to silence peaceful demonstrators. The appropriate response should be reform, not repression. This is the only way that long term stability can be achieved in Syria. The Assad regime has utterly failed in this regard.
The UK demands that the Syrian authorities halt the indiscriminate violence directed towards the people of Syria and release all who have been arbitrarily detained. There can be no impunity for those who have committed such gross human rights violations. Justice for the countless victims, through fair and independent investigations, is vital.
Accountability is not just about judicial processes; it is also about enabling independent monitors, including lawyers, journalists and other human rights defenders. The Syrian authorities must stop restricting their activity. They must respect the right to freedom of expression. Access must also be granted to humanitarian agencies and actors, who urgently need safe passage to address the welfare needs of the people of Syria.
The violence in Syria must stop now. The Syrian people's legitimate demands have to be recognised: they have a right to liberty, to dignity and to choose freely their own leaders.
Madam President,
The UK urges all members of this Council to support the resolution before us today. We must send a clear signal of the international community's united support for the people of Syria and demonstrate to the Syrian authorities that they cannot continue to repress the rights of their people unchecked. This Council must ensure further independent monitoring and investigation of the human rights situation in Syria, so that those responsible for violations can be held to account.
Thank you"
Published 23 August 2011