"The situation in Japan is of great concern"
Foreign Secretary William Hague updated Parliament on the Government's response to the situation in Japan on 17 March.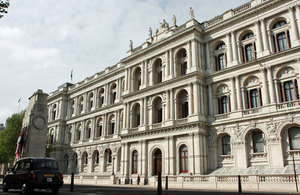 Speaking in Parliament the Foreign Secretary said:
"The situation in Japan is of great concern, the devastation suffered in this crisis is truly appalling and we're doing all we can to support the Japanese people during this traumatic time. We do have severe concerns over a number of British nationals that we have so far been unable to locate. Our consular teams in London and Japan are working round the clock to locate and assist British nationals. We're following up all the leads from the help line we have set up.
We advise against all non essential travel to Tokyo and North Eastern Japan, given the damage caused by the earthquake and resulting aftershocks and tsunami. We're providing high levels of support for British nationals directly affected and their families. We've sent more than fifty additional staff to the affected region. They've been visiting reception centres, hospitals and locations affected by the earthquake and tsunami. Our assistance includes help with transport out of the immediate danger zone and from Sendai to Tokyo, financial support for people who need essentials such as food, accommodation and clothing and telephone calls home. We are bussing British nationals from the Sendai region to reach Tokyo later today.
We know too that British residents in Tokyo and other parts of the country not directly affected by the tsunami are concerned, particularly by the situation at the Fukushima nuclear facility. We advise British nationals to follow all relevant advice from the Japanese authorities and, as an additional precautionary measure, not to go within eighty kilometres of the site and to stay indoors if they are within and not able to leave that area. And due to the evolving situation at that nuclear facility and potential disruptions to the supply of goods, transport, communications, power and other infrastructure, we are advising that British nationals currently in Tokyo and to the North of Tokyo should consider leaving the area.
To help British nationals wishing to leave we are chartering flights from Tokyo to Hong Kong to supplement the commercially available options. Full details of those flights will of course be made available through our website and we are keeping that travel advice under constant review."
Published 17 March 2011