World news story
The Queen's Birthday Party 2017 in Bulgaria
The annual celebration, held on 15 June 2017, invited guests to take part in a journey around the United Kingdom.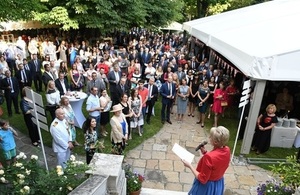 This year, the Queen's Birthday Party was held under the theme "The GREAT British Journey" and celebrated UK excellence in tourism, education, science and innovation, and food and drink. The event was kindly sponsored by UK business leaders Deloitte and CertAsig.
Emma Hopkins OBE, British Ambassador to Bulgaria, addressed the audience and spoke about British excellence in the four areas at the event, about the partnership between the UK and Bulgaria, and about the journey ahead. Extracts from the speech can be found below:
Ladies and Gentlemen, distinguished guests, colleagues and friends, welcome to our National Day – the Queen's Birthday. Thank you for joining us on this occasion.

Our theme this year is the Great British Journey. We invite you to take a journey around our wonderful British garden to explore four different areas in which the UK has a great deal to offer.

Firstly, take a look at our exhibition of pictures from the four countries that make up the UK, and get a glimpse of the diversity the UK has to offer. Place a sticker on our interactive UK map of a place you would like to visit or of your best memories from visiting the UK.

Secondly, open a box to explore some of the major inventions that have come from Great Britain, the home of science and innovation over the years.

Thirdly, listen to the stories of Bulgarian students and alumni that have attended UK universities and finally, have a pint of beer and some fish and chips in our pub - the Sofia Arms before finishing off with strawberries and cream.

We hope you enjoy this journey around the garden this evening. Of course, the UK has also been on a journey over the course of the last year since our referendum. However, as we prepare to start negotiations to leave the European Union one thing is certain – our commitment to our shared values and objectives with our Bulgarian partners will remain the same.

We already work closely together in the field of defence, counter terrorism, countering organised crime, migration and judicial reform. Our bilateral trade continues to grow.

I hope that as close friends we can navigate the future together to achieve a positive outcome for us all - that reinforces our democratic values and builds a hopeful future for our continent.

I want to thank all of our close partners who are here this evening for you support, friendship and co-operation over the past year.

I would also like to thank the two British companies who have generously sponsored tonight's event – Deloitte and CertAsig.

Now I ask you to be upstanding and to join me in a toast to celebrate our Queen, now in her 91st year.
Published 21 June 2017