Press release
The Queen to award prestigious Regius Professorships to 12 universities
Jo Johnson and John Penrose launched a national competition to mark the Queen's birthday by awarding Regius Professorships to universities.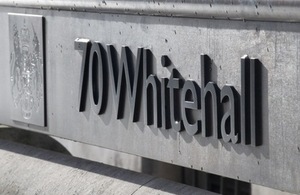 Universities and Science Minister Jo Johnson and Minister for the Constitution John Penrose today (26 October) launched a national competition to mark the Queen's birthday with an award of up to 12 highly prestigious Regius Professorships to UK universities.
The successful universities will have the esteemed title of Regius Professor bestowed upon them in celebration of Her Majesty the Queen's 90th birthday next year.
A Regius Professorship is a rare honour granted by the Sovereign to recognise research excellence. Since the reign of Queen Victoria only 14 Regius Professorships have been granted – including 12 to mark Her Majesty's Diamond Jubilee.
Announced in the government's Productivity Plan in July, the new Regius Professorships will celebrate the increasingly important role of academic research in driving growth and improving productivity over the past 90 years.
Launching the competition at the University of Glasgow, Universities and Science Minister Jo Johnson said:
The UK's exceptional research and innovation capability is crucial to powering our economy and improving millions of lives. These new Regius Professorships will recognise the academic excellence and real world impact of university research across the country. Competition will be tough given how many world-beating universities we have across the country, but I strongly encourage institutions to take this rare opportunity to bid for the prestige of a Regius Professorship.
Minister for the Constitution John Penrose said:
I am delighted that we are able to celebrate Her Majesty's 90th birthday with the award of a number of new Regius Professorships. These prestigious awards will recognise the outstanding contribution that universities across the country make to our society and economy.
Applications for the new Regius Professorships are invited from all universities with excellent records of relevant academic research. Recognising that high-quality research is often the result of collaboration, joint applications from 2 universities will be accepted for the first time. In such cases, the universities will share a Regius Professorship if successful.
Regius Professorships are created under the Royal prerogative on ministerial advice. Applications will be considered by an expert panel that will make recommendations to ministers, who will provide advice to Her Majesty.
Universities have until 14 December 2015 to submit an application for the honour of a Regius Professorship.
Applications will be judged on:
national and international recognition of excellent research across any field or fields of research
the leading role of the university in translating the research into use in wider society as a contribution to knowledge, or to solving a problem
a direct and significant benefit to the UK's economic effectiveness and productivity at a regional or national scale, and
other factors, such as the chance to mark a significant event in history of the institution or field of research
Universities wishing to apply for a Regius Professorship or to find out more should view the Regius Professorships entry guidelines.
Published 26 October 2015