The Queen's Birthday Honours List 2012
The Queen's Birthday Honours List is published today, 16 June 2012.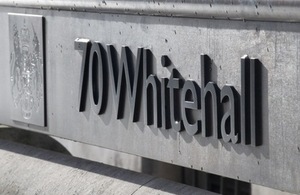 The Queen's Birthday Honours List is published today and, in this Jubilee year, the re-introduction of the British Empire Medal has provided the opportunity for even greater recognition of the achievements and service of extraordinary people right across the United Kingdom.
Recipients of the British Empire Medal (BEM) include:
Audrey LLOYD who has worked tirelessly for over 30 years for Whale Hill, a small community of 1500 residents situated within a deprived ward of the borough of Redcar and Cleveland. She is true exemplar of community spirit and helped to raise funds for a community centre to bring residents and families together.
Anne VANCE, for services to People with Mental Illness in Northern Ireland. She has been the backbone of the Befriending scheme, Praxis Care, over the past 22 years, working with many vulnerable people with mental health problems in Northern Ireland.
Alice and Milly PYNE, for services to charity. Alice Pyne was diagnosed with Hodgkins Lymphoma disease at the young age of 13. She and her sister, Milly, have raised over £31,000 towards research into this dreadful disease, and have bravely put themselves forward in the media to raise public awareness of the need for ongoing research and treatments.
In total, 72% of awards in The Queen's Birthday Honours List are for people who are actively engaged in charitable or voluntary work within their local community.
There is an MBE for Emma COLYER who launched her own charity, Body and Soul and has devoted her working life to helping children and families affected by HIV. Her work has been recognised by the world health organisation for its model of best practice in working with children and young people living with or affected by HIV. 
Other MBEs include:
Anthony LOWE, who set up FareShare, a charity which addresses food poverty and food waste by redistributing surplus 'fit for purpose' product from the food and drink industry to organisations working with disadvantaged people in the community. In 2010-11, the food redistributed by FareShare contributed towards more than 8.6 million meals.
Clive ONGLEY who founded the AHOY Centre in 2002 based on former wasteland near the historical naval sites of Greenwich. The charity has benefited the local community and changed people's lives through sailing, especially people with disabilities.
Pauline WARD who has been Chairman for Purton Helping Hand, a local independent organisation since its formation 47 years ago, caring for the sick and those in need of help of all ages within the community of Purton in Wiltshire.
Rosamund SPEARING, founder of South London's pioneering horse riding charity, Ebony Horse Club (EHC), who has helped improve the lives of hundreds of disadvantaged children and young people growing up in Brixton.
There is an OBE for Ruth OWEN, Chief Executive of Whizz-Kidz. A wheelchair user herself, she is a powerful voice and role model for young children with disabilities. Under her leadership, Whizz-Kidz has raised nearly £40m and is nationally recognised for the major impact it has had on thousands of lives of young wheelchair users.
Also receiving an OBE is Patrick CLARKE for his work in mentoring Black, Asian and Minority Ethnic youths. He has changed the lives of many young people through the Minority Ethnic Role models for Learning and Aspiration (Merlin) and Mosaic Mentoring Programme. He has also led many businesses through the Prince's Seeing is Believing Programme, which engages business leaders on responsibility issues.
Philanthropy has once again been a prominent theme amongst the recipients. The list includes a DBE for Theresa SACKLER, a generous and committed supporter of arts and culture in the UK for over two decades. Knighthoods are also awarded to the philanthropists, Charles DUNSTONE, Founder and Chairman, Carphone Warehouse Group, who has made personal donations to a wide range of charities and initiatives through his charitable trust; Richard STILGOE who set up the Alchemy Foundation and has made donations of £13m to good causes; and there is a KBE to Earl CADOGAN who has made the management of Cadogan Estates his work of a lifetime, to enable the support of many charitable institutions.
In total 1,201 people have been recommended to The Queen for an award:
1,064 candidates have been selected at BEM, MBE and OBE level, 293 at BEM, 532 at MBE and 239 at OBE.
72% per cent of the recipients are people who have undertaken outstanding work in their communities either in a voluntary or paid capacity.
There are 498 successful women candidates in the List, representing 41 per cent of the total. Women candidates include 8 Dames, 39 CBEs and 2 CBs.
6% per cent of the successful candidates come from ethnic minority communities.
Among the well known names being honoured there is a knighthood to Kenneth BRANAGH for services to Drama and the community in Northern Ireland; CBEs for actress Kate WINSLET and for cookery writer and broadcaster Mary BERRY; CBEs to the journalists Alexander CHANCELLOR and the Rt Hon Peter RIDDELL; and OBEs for singer-songwriter, Gary BARLOW who has made a significant charitable contribution; choirmaster and broadcaster, Gareth MALONE; comedy writer and broadcaster Armando IANNUCCI; and actress, Jenny AGUTTER, in recognition of her service to charity.
Senior women at DBE in this List include Dr Mary ARCHER, the driving force behind the formation of Cambridge University Health Partners and a champion of patient care and safety; Zaha HADID, the award-winning architect whose most recent work includes the Aquatics Centre in the Olympic Park; Lucy NEVILLE-ROLFE, a role-model for women in business, she has led Tesco's community engagement programme; and Professor Julia KING, Vice-Chancellor of Aston University.
A new Parliamentary and Political Services Committee was established for the current honours round, chaired by Lord Spicer and comprising a majority of independent members and the Chief Whips of the three major parties. The conclusions of the Committee were unanimous and include knighthoods for Tony BALDRY, Conservative MP for Banbury, who has made a number of significant contributions to public life outside Westminster and is presently the Second Church Estates Commissioner; the Rt Hon Malcolm BRUCE, Lib Dem MP for Gordon, and current Vice President of the National Deaf Children's Society and Chair of the Deafness All Party Group in Parliament; Tony CUNNINGHAM, Labour MP for Workington and renowned campaigner on Human Rights and international development; and the Rt Hon George REID who has served with distinction as Presiding Officer of the Scottish Parliament. The Committee also supported a DBE for the Rt Hon Tessa JOWELL for her service in support of the London Olympics.
In Law and Order, the awards include a CBE for Nicholas CRICHTON, District Judge, who has dedicated himself to the welfare of children and families who are involved in the family justice system, both in the UK and overseas; and an OBE for Kim WHITE, Police Constable, Kent Police, who has devoted a lot of her own time to assisting female members of the gypsy traveller community.
The Education Committee recognised 15 Headteachers, and a similar number of teachers, amongst their selections; Robin BOSHER, lately Headteacher of Fairlawn Primary School and Haseltine Primary School, Lewisham, receives a knighthood; there are also 2 CBEs and 12 OBEs awarded to Headteachers. The knighthoods in the education sector also include former Headteacher, Dr Daniel MOYNIHAN, Chief Executive, The Harris Federation of South London Schools; Peter BIRKETT, Chief Executive, Barnfield College, Luton; and Professor Richard EVANS, Regius Professor of History, University of Cambridge.
In total, about 10% per cent of honours are for work in Education. The education MBEs also include an award to Doreen WHITE, Social Area Supervisor at Franklin Sixth Form College in Grimsby, who has served staff and students for over 20 years.
Health makes up 7% per cent of all honours. There is a DBE for Professor Tina LAVENDER, Professor of Midwifery, University of Manchester School of Nursing, Midwifery and Social Work, who has had a real impact in reducing maternal mortality in Africa.  There are also Knighthoods for Thomas HUGHES-HALLETT, Chief Executive of Marie Curie Cancer Care; and Professor Robert LECHLER, Vice Principal and Executive Director, King's College London.
There is a rich breadth of vocations within the honours in the Health sector; recommendations at MBE include 4 GPs, 4 Nurses, a Dermatologist, and a Speech and Language Therapist. There is also an MBE for Patricia CONNELL who has demonstrated a devotion and commitment over and above her working hours as Healthcare Assistant at Bradford Teaching Hospital NHS Foundation Trust.
Industry and the Economy make up 12% per cent of the awards and include a GBE (Knight Grand Cross) for Sir John PARKER for his service to Industry and the Voluntary Sector. As Sir John is the Chair of the Economy Honours Selection Committee, his nomination was considered in confidence and ex-committee by members of the Main Honours Committee. Other awards include a knighthood for Dr William HAUGHEY, a successful businessman, who  has donated over £5m to various charities; and Brian POMEROY, Chairman, Independent Commission on Equitable Life Payments, who has made a significant voluntary contribution. Other awards include a CBE for Ronald JONES, Founder and Executive Chairman of the Tinopolis Group, one of the UK's largest independent media companies;  an OBE for Sahar HASHEMI, one of the UK's most inspirational female entrepreneurs whose book "Building Coffee Republic from our Kitchen Table" has been translated into six languages; and an OBE for Jonathon KINGSLEY, one of the leading figures in the UK games industry, who formed Oxford-based developer Rebellion, a company with a multi-million pound turnover.
There are MBEs for a wide variety of people, including Emma JONES, author and founder of Enterprise Nation, a role model for women and young people in supporting start-up businesses in the UK.
Science and Technology make up 2% per cent of the awards. There is a DBE for Professor Janet THORNTON, Director of the European Bioinformatics Institute, which has had a worldwide impact on bioinformatics over the past 40 years. There are also knighthoods for Professor Tim GOWERS, winner of the Fields Medal, the mathematical equivalent of a Nobel Prize; and Professor Michael STERLING who has turned round the Science and Technology Facilities Council.
The MBEs include an award to Trevor HAYWARD, Technical Manager at the University of Birmingham, who has helped others achieve their scientific goals throughout 47 years of exemplary service.
Arts and Media make up 6% per cent of the total. In addition to the DBEs for Zaha HADID and Theresa SACKLER, there are knighthoods for Michael BOYD, Artistic Director of the Royal Shakespeare Company, and for David MCVICAR, widely regarded as one of the leading opera directors of his generation. The OBEs include an award to Tamsin LITTLE, world-renowned violinist who has performed in schools, hospitals, and prisons for no financial reward in order to make music accessible to all.
Those supporting local communities through the arts are also recognised, including an MBE to Winifred LEWIS who, through her role as Principal of the Stafford School of Dance, has enriched the lives of thousands of pupils and their families in her home town of Stafford for over half a century.
The State Sector awards include a KCB for Paul JENKINS, Chief Executive and Permanent Secretary, Treasury Solicitor's Department; and a CB for Edgar JARDINE, Interim Chief Executive, Northern Ireland Policing Board, who has given invaluable service to the Northern Ireland Civil Service in a diverse career spanning almost 40 years and has made a wide contribution in  his local community, including 25 years on the Board of North Down YMCA.
Awards for Sport make up 4% per cent of the total. There is a CBE to former professional footballer, Paul ELLIOTT, who has been at the vanguard of English football's anti-racism movement; an MBE for Luke DONALD, one of the best golfers in the world; an MBE for Shane WILLIAMS whose international rugby career culminated in Wales' inspiring 2011 World Cup performance; and an MBE for David JAMES, former England goalkeeper for his service to Football and to charity.
Those engaged in grassroots sports are also recognised and awards include an MBE for Kenneth WOOLCOTT who created Popmobility in 1967, initially as a novel way for the Middlesex Ladies' Athletics Club to keep fit. Popmobility continues to this day with followers of all ages training regularly at a local level.
Finally, there is also an OBE for Sarah BURTON, Creative Director, Alexander McQueen, Designer of the Year in the 2011 British Fashion Awards, and designer of the wedding dress for Kate Middleton, Duchess of Cambridge.
Notes to editors
The full honours list is published at www.direct.gov.uk/honours.
Published 16 June 2012