World news story
The Prince of Wales and The Duchess of Cornwall to visit Serbia
Details announced of The Prince of Wales and The Duchess of Cornwall's visit to Croatia, Serbia, Montenegro and Kosovo.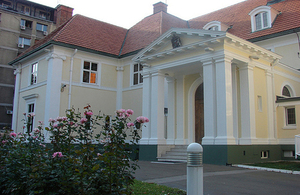 The Prince of Wales and The Duchess of Cornwall will visit Croatia, Serbia, Montenegro and Kosovo from 14th – 19th March 2016. Their Royal Highnesses will undertake a broad range of engagements to celebrate peace, reconciliation, youth empowerment and restoration.
On 16th March, Their Royal Highnesses will arrive in Belgrade, Serbia, where they will start their programme by laying wreaths at the Serbian WW1 memorial to the liberators of Belgrade and the Commonwealth War Graves Cemetery in order to remember the British, Commonwealth and Serbian soldiers who fought alongside each other in the First World War.
The Prince of Wales will call on the Serbian Patriarch Irinej and attend a meeting of faith leaders from the Orthodox, Catholic, Anglican Muslim and Jewish communities in Belgrade. The Duchess of Cornwall will visit a family care project supported by both UNICEF and the Novak Djokovic Foundation.
The following day Their Royal Highnesses will visit the historical city of Novi Sad where they will enjoy Serbian food, arts and cultural heritage. They will visit the Matica Srpska Gallery where representatives from the British Council will present their "Moving Museums" programme and demonstrate how the UK and countries across the Western Balkans are working together to attract new audiences to museums. The Prince will then visit the 700 year-old Kovilj Monastery. Originally built in the 13th Century and renovated in the early 18th Century, the Monastery was revived in the late 1990s and has a thriving monastic community that runs a sustainable business selling honey and brandy to local and international markets. The Prince will also meet those going through the monastery's "Land of the Living" rehabilitation programme for recovering addicts. The Duchess will attend an event to showcase Serbian food and meet local British and Serbian food and drink producers.
Later that evening, Their Royal Highnesses will attend at a reception hosted by the President of the National Assembly of Serbia at the Parliament building, which will be attended by a range of guests from culture, entertainment, sport and civic society.
For details on the visit of Their Royal Highnesses to Serbia, Montenegro and Kosovo, please visit Clarence House.
Document information
Published: 22 February 2016