News story
The Prime Minister reappoints three trustees of the British Museum
The Rt Hon Theresa May MP has reappointed Patricia Cumper MBE, Sir Deryck Maughan and The Lord Sassoon for terms of four years, ending on 26 September 2021.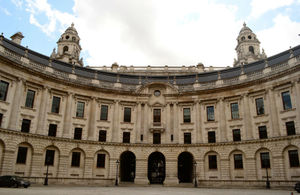 Patricia Cumper MBE
Patricia Cumper is an award-winning playwright, producer, director, arts administrator and cultural leader who is a passionate advocate for the arts, particularly the BAME arts sector. She is also an experienced and articulate critic and commentator. Born in Jamaica, she studied Archaeology and Anthropology at Cambridge University where she was a College Exhibitioner and a full swimming Blue. Returning to Jamaica after graduation, Patricia became an award-winning playwright and producer in Caribbean theatre whose work was produced throughout the Caribbean, in Canada and the US. After returning to the UK in 1993, Patricia led the UK's largest Black-led theatre company, Talawa Theatre Company, producing ground-breaking work with partners including the West Yorkshire Playhouse, The Victoria and Albert Museum and English Touring Theatre. The company also launched the careers of young Black British theatre makers and toured groundbreaking work to South Africa's Grahamstown Festival. Patricia has won awards for her work in radio drama with the BBC, for both original series and adaptations of the work of among others Andrea Levy, Alice Walker, Zora Neale Hurston and Toni Morrison. She is a Fellow of the Royal Society of the Arts and was awarded an MBE for services to Black British Theatre. Her son and grandsons are the great joys of her life.
Sir Deryck Maughan
Sir Deryck Maughan is a Director of BlackRock and chairs its Risk Committee. He is a former Partner at Kohlberg Kravis & Roberts and Senior Independent Director of GlaxoSmithKline. Sir Deryck was Vice Chairman of Citigroup and CEO of Citigroup International from 1998 to 2004. He was Chairman and CEO of Salomon Brothers from 1992 to 1997, a firm he joined in 1983. He worked at H.M. Treasury from 1969 to 1979, and Goldman Sachs from 1979 to 1983. Sir Deryck has served as Vice Chairman of the New York Stock Exchange and as a member of the Investor Advisory Committee on Financial Markets of the New York Federal Reserve Bank. Sir Deryck is is a former Trustee of Lincoln Center, Carnegie Hall and NYU Langone Medical Center. He is a former Chairman of the Japan Society and the American Friends of the Churchill Museum. He has also served on the Dean's Advisory Councils of the Stanford Graduate School of Business and the Harvard Kennedy School of Government. Sir Deryck is married to Lady Va Maughan. The Maughan Library of King's College London is named in their honour. Sir Deryck is a Harkness Fellow and a graduate of King's College London and the Graduate School of Business, Stanford University.
The Lord Sassoon
Lord Sassoon is an Executive Director of Jardine Matheson Holdings and Chairman of the China-Britain Business Council. He began his career at KPMG, before joining SG Warburg (later UBS Warburg) in 1985. From 2002 to 2006 he was in the HM Treasury as a civil servant, where he had responsibility for financial services and enterprise policy. Following this, he chaired the Financial Action Task Force; and conducted a review of the UK's system of financial regulation. From 2010 to 2013 Lord Sassoon was the first Commercial Secretary to the Treasury and acted as the Government's Front Bench Treasury spokesman in the House of Lords. He is also a director of Matheson & Co., Dairy Farm, Hongkong Land, Mandarin Oriental and Jardine Lloyd Thompson; a member of the Global Advisory Board of Mitsubishi UFJ Financial Group; and a member of the Committee of the Hong Kong Association. Previous appointments include chairmanships of the Merchants Trust and ifs School of Finance and as a Trustee of the National Gallery Trust. He was born in London in 1955 and educated at Eton College and Christ Church, Oxford, where he read Philosophy, Politics and Economics.
Trustees of the British Museum are not remunerated. These reappointments have been made in accordance with the Cabinet Office's Governance Code on Public Appointments. It is a requirement of the Code that political activity by those appointed is declared. Patricia Cumper and Sir Deryck Maughan have declared that they have not carried out any political activity. Lord Sassoon has declared that he was a Conservative Minister until 2013 and continues to sit in the House of Lords, taking the Conservative Whip and speaking.
Published 21 April 2017