News story
The Prime Minister appoints 3 new Trustees to the Board of the Victoria and Albert Museum
The Prime Minister appoints 3 new Trustees to the Board of the Victoria and Albert Museum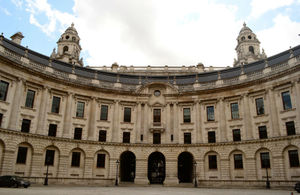 Elaine Bedell, Robert Glick and Nick Hoffman have been appointed by the Prime Minister as Trustees at the Victoria and Albert Museum from 15 September 2015 for terms of 4 years each.
ELAINE BEDELL
Elaine Bedell has been the Director of Entertainment and Comedy at ITV since March 2009. She leads a team who commission and manage all entertainment and comedy shows across the ITV channels, including Britain's Got Talent, I'm A Celebrity Get Me Out Of Here, Saturday Night Takeaway, X Factor and the sitcoms Benidorm and Plebs. Elaine was previously Controller of Entertainment at the BBC, where she looked after programmes including Strictly Come Dancing, Top Gear, and The Apprentice as well as commissioning and launching The One Show.
Elaine was a television and radio producer for many years before setting up and running her own production company, Watchmaker, with Clive James, which was sold to Chrysalis after seven successful years. Following this, she was appointed to run the newly created commercial subsidiary of the Royal Shakespeare Company, before returning to the BBC.
She has won a BAFTA and a British Comedy award and was for 5 years Executive Chair of The Edinburgh Television Festival.
ROBERT GLICK
Robert Glick is Vice President of Corporate Communications & Head of International Government Affairs at American Express. Previously he held various roles at the United Nations Development Programme, was Assistant Vice President for Corporate Affairs at L'Oréal, and Senior Financial Analyst at Arthur Andersen & Company. A graduate of the University of Cambridge and the London School of Economics, he is Chair of the Board of Terrence Higgins Trust and a Trustee of Sadler's Wells Theatre.
NICK HOFFMAN
Nick Hoffman is a Partner at McKinsey & Company, the management consulting firm, and leads McKinsey's UK Insurance and Asset Management Practice. Previously he worked at the State Hermitage Museum in St. Petersburg, Russia. Nick is a former Chairman of the Trustees of the Gilbert Collection in Somerset House, and has served on the V&A's Investment Committee. Nick has an M.B.A. from Harvard Business School and graduated summa cum laude from Harvard University.
Published 5 August 2015