World news story
The presentation of the report on women offenders held in Astana, Kazakhstan
From:

Part of:

Published:

29 September 2014

Last updated:

29 September 2014, see all updates
This was published under the 2010 to 2015 Conservative and Liberal Democrat coalition government
Speech given by Steven Freeman, Second Secretary Political at the presentation organised by Penal Reform International.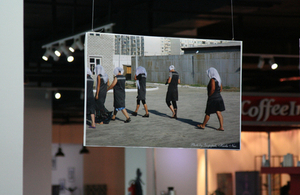 Ladies and Gentlemen,

I am delighted to be here today and I would like to thank Penal Reform International for making this event possible. The British Government has been proud to support the publication of this report. I want to thank all who came to speak and came to listen.

We hope that this report ends up making a real difference to the lives of women offenders in this country. The detrimental impact of women's social isolation was clear from the results of the survey. By providing facts and figures, the report seeks to illustrate the need for gender-specific policies that respond to the needs of women in prison, and identifies areas of need that should be addressed as a matter of priority.

Why do these women end up in prison? Who are these women offenders? Self-defence or self-protection have been highlighted as two of the main reasons for crimes having been committed; 12% were convicted of murder or manslaughter of a male family member. These are domestic violence related issues and there is a need on a legislative level to protect women from this, especially vulnerable groups.

Since the vast majority of women in prison were first-time offenders, we also believe a strong emphasis should be placed on crime prevention. There's a need for exceptions to be introduced to the criminal code, especially for minor crimes for first-time offenders.

Given that they are few in number, women offenders find themselves in criminal justice systems that are designed for men and do not address their specific needs. Increasing the knowledge about the background, characteristics and social reintegration needs of female offenders is an important first step for policy-makers and practitioners to review and adjust legislation and policies in a gender sensitive way. Women offenders and prisoners have distinctive needs that must be identified and addressed so that they receive equitable treatment.

On the behalf of the British Embassy, I believe it will be particularly important to continue advocating the report's recommendations among stakeholders in Kazakhstan. I hope the discussion you have here today is informative and useful.

Rakhmet.
Document information
Published: 29 September 2014
Updated: 29 September 2014
Added translation
Added translation
Added translation