World news story
The Newton Fund promotes UK-Thai astronomical collaboration research
The Newton UK-TH Research and Innovation Partnership Fund launched the first £1.3 million or THB 60 million for promoting joint astronomical research.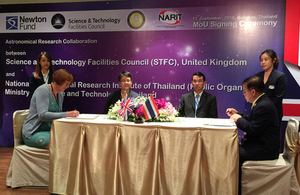 At least 4 projects on capacity building in software and hardware infrastructures and data handling will be funded after scoping workshop in Bangkok.
On 12 September 2016, the three-day STFC-NARIT Scoping Workshop began with the MOU Signing Ceremony for astronomical research collaboration between the Science and Technology Facilities Council (STFC) and the National Astronomical Research Institute of Thailand (NARIT) as a delightful symbol of the beginning of collaboration in fields of Astronomy.
The workshop, in which 14 UK and 18 Thai researchers participated, aims to create collaboration and partnership among UK and Thai researchers in capacity building in software and hardware infrastructures and data handling through astronomy. During the workshop, attendees will share, discuss, and later develop outline project proposals focusing specifically in mechatronics, VLBI (Very Long Baseline Interferometry), data handling and outreach to support STEM subjects in schools. Ultimately, the workshop offered a great opportunity for those project proposals to be funded.
Margaret Tongue, Deputy Head of Mission, British Embassy Bangkok, said:
It is anticipated that the funded projects will use a range of mechanisms, including training and exchange programmes for PhD students, early career researchers, computer programmers, engineers, technicians and outreach to create a long-term impact on technological and scientific revolutions underpin economic advances and improvements in education and infrastructure.
Prof. Boonrucksar Soonthornthum, Executive Director of NARIT, said:
The MoU between NARIT and STFC is a new collaborative effort that allows both parties to explore the areas of cooperation that both parties are capable of. Together with the Newton Fund, NARIT and STFC are creating new synergy that brings in projects with great impact and breakthrough for both countries. It is not only Astronomy that will see great benefits from the Newton Fund, but also other industries will also share the knowledge gained through technology transfer and spinoffs stemming from these aforementioned projects.
Prof. Grahame Blair,STFC Executive Director of Programmes, said:
The UK is one of the world leaders in astronomy research and through support from STFC the UK is a key global player in the breakthroughs that continue to improve our understanding of the cosmos. This new collaboration with Thailand is a wonderful example of where the UK is working with international colleagues to spread best practice in research and at the same time create new and lasting relationships with fellow researchers overseas to the benefit of all.
Further information
About the Newton Fund
The Newton Fund builds scientific and innovation partnerships with 16 partner countries to support their economic development and social welfare, and to develop their research and innovation capacity
for long-term sustainable growth. It has a total UK Government investment of £735 million up until 2021, with matched resources from the partner countries.
The Newton Fund is managed by the UK Department for Business, Energy and Industrial Strategy (BEIS), and delivered through 15 UK Delivery Partners, which include the Research Councils, the UK Academies, the British Council, Innovate UK the Met Office.
The Newton UK-Thailand Research and Innovation Partnership Fund was officially announced on 13th January 2015 during the visit of FCO Chief Scientific Advisor to Thailand. Presently, there are 17 funding organisations (9 UK organisations and 8 TH organisations) develop and run calls, and allocate and manage the money they receive as part of the Newton Fund. 12 funding programmes are available for Thailand. Since 2015, more than £10 million was funded to 1,050 Research & Innovation (R&I) personnel in Natural Sciences, Engineerings, Social Sciences and Humanities and more than 20 large-scale joint research projects in Health, Agriculture, Energy, Environment & Natural Resources and STI policy.
About Newton Astronomical Research
Capacity Building in Software and Hardware Infrastructures and Data Handling through Astronomy
Astronomy is a unique and cost-effective way to further economic development because technological and scientific revolutions underpin economic advances and improvements in health systems, education and infrastructure. National research programmes in astronomy inspire the young to enter careers in science and technology. This not only creates an immediate impact on skills and training by encouraging students to study science and engineering, and equipping students with skills that can be exploited in other sectors leading increased economic development but it pushes the boundaries of science and technology and so supports the growth of a high-technology economy.
The Science and Technology Facilities Council (STFC) is keeping the UK at the forefront of international science and tackling some of the most significant challenges facing society such as meeting our future energy needs, monitoring and understanding climate change, and global security. The Council has a broad science portfolio and works with the academic and industrial communities to share its expertise in materials science, space and ground-based astronomy technologies, laser science, microelectronics, wafer scale manufacturing, particle and nuclear physics, alternative energy production, radio communications and radar.
NARIT is developing infrastructure and capacity in astronomy and astrophysics, including the development of several robotic telescopes and a Thai VLBI Network (TVN). The skills needed for high accuracy modern telescope control systems and radio astronomy are eminently transferable to high-tech industries. For example, the high precision mechatronics skills needed for telescope control systems could provide considerable benefit to Thailand's industries in areas such as automobile control systems and high precision machining (e.g. computer controlled cutting).
Published 14 September 2016