Press release
The New Year Honours Lists 2013
The New Year's Honours Lists 2013 are published today in recognition of the achievements and service of extraordinary people across the UK.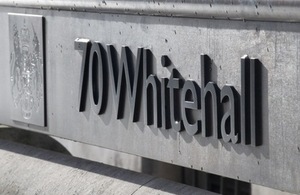 The New Year's Honours List 2013 is published today in recognition of the achievements and service of extraordinary people right across the United Kingdom. 
London 2012 Honours
We are also publishing at New Year 2013 a Special Honours List to recognise our Olympians, Paralympians, and the most successful coaches, following Team GB's unprecedented success at the London 2012 Games.
The recommendations for this Special List include:
a DBE for Sarah Storey, cyclist, who won 4 gold medals at London 2012, bringing her Paralympic gold medal total to 11
a knighthood for the cyclist Bradley Wiggins, Olympic gold medallist and winner of the Tour de France
a knighthood for Ben Ainslie, the most decorated sailor in Olympic history, having won gold medals at 4 consecutive Games
a knighthood for David Brailsford, Performance Director, British Cycling
a knighthood for David Tanner, Performance Director, British Rowing. 
Amongst those receiving CBEs are Mo Farah, Victoria Pendleton, David Weir, Jessica Ennis and Katherine Grainger.
We will also be recognising those people who have contributed to the 2012 Games in a non-sporting capacity. Meritorious candidates will appear in the main honours list, both at New Year and in the next round at Birthday 2013.
The awards in this list include:
a Companion of Honour (CH) for Lord Coe, Chair, LOCOG
a GBE (Knight Grand Cross) for Sir Keith Mills, Deputy Chair, LOCOG
a KBE for Paul Deighton, Chief Executive Officer, LOCOG
a CBE for Neale Coleman, Director of London 2012 for the Greater London Authority
a CBE for Deborah Jevans, Director of Sport, LOCOG
British Empire Medal
The re-introduction of the British Empire Medal (BEM) has continued to provide the opportunity to recognise an even greater number of people playing their part to create a Big Society. In total, 72% of awards in the New Year's Honours List are for people who are actively engaged in charitable or voluntary work within their local community. Some notable examples are:
Robert Clinton who has dedicated himself to the Veterans Aid charity which looks after homeless ex-service personnel
Alan Kilpatrick and Ian Dickson, who jointly established the Friends of the Beatson Charity, to provide amenity and comfort to patients and their relatives attending the Beatson West of Scotland's Cancer Centre
Mandy Painter who has shown incredible determination to raise funds for The Starlight Children's Foundation which brightens the lives of seriously ill children
Philanthropy
Philanthropy has once again been a prominent theme among recipients. In particular, the recommendations include:
a knighthood for Michael Heller, an extremely generous philanthropist whose gifts have straddled educational research and humanitarian causes
a knighthood for Martin Smith, a philanthropist of extremely wide reach in education, science and the arts
a CBE for Dr Terry Bramall, a philanthropist who has established his own charitable trust with a gross donation of £96 million
Honours - facts and figures
In total 1,223 people have been recommended to The Queen for an award:
1,068 candidates have been selected at BEM, MBE and OBE level, 286 at BEM, 535 at MBE and 247 at OBE
72% of the recipients are people who have undertaken outstanding work in their communities either in a voluntary or paid capacity
there are 572 successful women candidates in the list, representing 47% of the total; women candidates include 13 dames, 40 CBEs and 2 CBs
5% of the successful candidates come from ethnic minority communities
Among the well known names being honoured there is a knighthood for the illustrator, Quentin Blake; a knighthood for the industrial designer, Kenneth Grange; a CBE for the artist, Tracey Emin; a CBE for Arlene Philips for services to dance and to charity; a CBE for singer and songwriter, Kate Bush; an OBE for the actor, Ewan McGregor; and an MBE for the former Surrey cricketer, Mark Ramprakash.
Senior women at DBE in this list include:
Nancy Hallett, Chief Executive, Homerton University Hospital NHS Foundation Trust
Professor Carol Robinson, Professor of Physical Chemistry, University of Oxford
Dr Christine Braddock, Principal and Chief Executive, Birmingham Metropolitan College
Parliament
The awards recommended by the Parliamentary and Political Services Committee, chaired by Lord Spicer, include knighthoods for:
Richard Shepherd, MP for Aldridge Brownhill
Robert Rogers, Clerk and Chief Executive, House of Commons
And damehoods for:
Margaret Beckett, MP for Derby South
Angela Watkinson, MP for Upminster
Education
The Education Committee has recognised 31 headteachers in total, including knighthoods and damehoods for the following 7 headteachers:
Sally Coates, Principal, Burlington Danes Academy, Hammersmith
Joan McVittie, Headteacher, Woodside High School, Haringey
Vicki Paterson, Executive Headteacher of Brindishe Green School, Brindishe Lee School and Lee Manor School, Lewisham
Helen Hyde, Headmistress, Watford Grammar School for Girls
Christopher Stone, Executive Headteacher, The Arthur Terry and Stockland Green Schools, Birmingham
Professor George Berwick, Headteacher, Ravens Wood School, Bromley
Nicholas Williams, lately Principal of The BRIT School, Croydon
In total, about 10% per cent of honours are for work in education. The education BEMs also include an award to Natasha Pearson, PE Teacher, Balby Carr Sports and Science College in Doncaster, who set up a successful project called Shine and Smile with the aim of breaking down social barriers between special education and mainstream school children.
Health
Health makes up 7% per cent of all honours. There is a rich breadth of vocations recognised within the health sector; recommendations at MBE include 4 nurses, 2 midwives, 2 GPs, 2 community pharmacists, and a paramedic. There is a damehood for Professor Sarah Cowley, for services to health visiting; her work has had a huge impact on public health services to children and families in the UK. The other awards in health include a knighthood for Professor Simon Wessely who has pioneered academic work to improve mental health services, both preventative and for treatment, for the British Armed Forces.
Industry and economy
Industry and the economy make up 12% per cent of the awards and include a GBE (Knight Grand Cross) for Sir Alan Budd; following a distinguished career, he agreed to leave retirement to lead the Office for Budget Responsibility. There is a damehood for Priscilla Newell, Chair of the Royal Mail Pension Trustees Ltd. Knighthoods include David Wootton, Lord Mayor of London. Other awards include a CBE for Sherry Coutu, a long-time supporter of UK start-ups who has raised several rounds of venture capital and public equity totalling more than $200 million.
There are MBEs for a wide variety of people, including Harriet Vine and Rosie Wolfenden, the co-founders of Tatty Devine, the handmade jewellery brand that has become a cult classic in British fashion accessories.
Science and technology
Science and technology make up 2.5% per cent of the awards. There is a CH (Companion of Honour) for Professor Peter Higgs, an inspirational figure with international recognition for his work in particle physics; he proposed the existence of a particle that now bears his name, the Higgs boson. Other awards include a knighthood for Dr Hossein Yassaie, CEO of one of Britain's leading technological companies, Imagination Technologies Group.
The MBEs include an award to Martin Gardner, Programme Co-ordinator of the International Conifer Conservation Programme who has helped to conserve some of the world's most threatened conifers.
Law and order
In law and order, the awards include a knighthood for Bernard Hogan-Howe, Commissioner, Metropolitan Police; and a CBE for His Honour Judge Peter Beaumont QC, the Recorder of London. The recommendations for state servants include a DCB for Ursula Brennan, Permanent Secretary, Ministry of Justice; and a KCB for Jonathan Evans, Director General of the Security Service.
Sport
Awards for sport make up 10% per cent of the total. In addition to the elite sportsmen and women honoured, those engaged in grassroots sports are also recognised and awards include a BEM for Christoper Sellars who has been voluntarily coaching swimming at a local pool in Derbyshire 5 days a week and for over 30 years.
Women
Finally, there is also a CBE for Cherie Blair in recognition of her service to women's issues and to charity in the UK and overseas.
Notes to editors
Published 29 December 2012