The Nation celebrates Armed Forces Day
Over 350 events have been held across the UK this weekend to celebrate Armed Forces Day - the annual opportunity for the Nation to show its support for all our Armed Forces.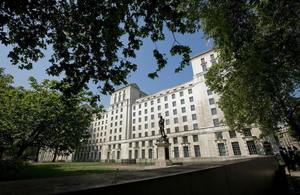 From serving personnel and their families, to veterans and the Cadet Forces, the Armed Forces community has been at the heart of a celebration to mark the commitment given to the Nation by those in the Services.
The day aims to raise awareness of the Armed Forces and highlight the outstanding contribution they make to British society.
The Royal Family, Defence ministers, senior military and Civil Service figures joined people at events across the UK to celebrate the second annual Armed Forces Day on 26 June.
Secretary of State for Defence, Dr Liam Fox, said:
As a nation, we have a duty to support our Armed Forces for all they do for us.
Members of the Armed Forces, both past and present, have made great sacrifices in the name of our country; but these men and women do not ask for sympathy, they ask for your support.
That's why on Armed Forces Day we need to give our Armed Forces a collective round of applause.
Dr Fox attended the national Armed Forces Day event, which was held in the city of Cardiff on Saturday.
More than 50,000 people from up and down the country are thought to have attended the event.
Highlights of the Cardiff event included a parade featuring over 1,000 troops, cadets, veterans and the famous Royal British Legion Riders on their motorbikes.
They were led through the city to a special drumhead service attended by Their Royal Highnesses The Prince of Wales and The Duchess of Cornwall.
Throughout the day there were a variety of displays including a flypast by the Battle of Britain Memorial Flight and other aircraft, an opportunity to go on board the frigate HMS Kent, and in the evening a concert featuring 'The Soldiers' and 'Only Men Aloud'.
Service personnel from the Army, Royal Air Force and Royal Navy have also been marking Armed Forces Day with events at bases throughout Helmand province.
Troops at the main operating base in Lashkar Gah have decorated the cookhouse with Armed Forces Day banners and flags and planned to have an evening of bingo.
They've also been giving television interviews, talking about the support shown by the general public back home.
Captain Alex Bowie, from the Queen's Royal Lancers, said:
It's fantastic that the people at home are taking time out to pay tribute to all the Armed Forces, both those of us out here and those at home.
We're all working hard in difficult conditions and we are making progress, but it's a real boost to know that people are thinking of us.
Published 27 June 2010