The nation celebrates Armed Forces Day
Thousands have turned out to give their support to Armed Forces Day, with events taking place the length and breadth of the country.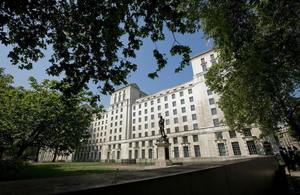 In Edinburgh, this year's official host city, 2,500 military personnel, veterans and cadets marched down the Royal Mile to mark the day.
The celebrations were attended by the Prince of Wales and Duchess of Cornwall, as well as Scotland's First Minister Alex Salmond.
Street parties and parades are also taking place throughout the UK.
Events in Edinburgh got underway on Friday, with tours of HMS Portland, which is moored in Leith, and an aerial display by the Red Arrows.
The parade ended with a short ceremony of thanks, at which the Prince of Wales and Duchess of Cornwall - who are known as the Duke and Duchess of Rothesay when they visit Scotland - met veterans and Service personnel.
A moment of silence was held at the Falklands Memorial Garden in Edinburgh's Princes Street Gardens and members of the South Atlantic Medal Association laid a wreath in honour of their comrades who did not return.
The parade was followed by an afternoon of entertainment and ended with a Beating Retreat and a flypast by Typhoon and Tornado aircraft from RAF Leuchars and RAF Lossiemouth.
The Red Arrows display over the Firth of Forth on Friday was their first full performance in the city for 23 years.
Squadron Leader Ben Murphy said:
Most of us have come from operational backgrounds, having served in Afghanistan and Iraq and other theatres.
"For us to be able to come up here and participate in these types of events is a massive honour."
Defence Secretary Dr Liam Fox said:
Armed Forces Day provides a unique opportunity for us all to pay thanks to the men and women who serve this country with such distinction.

I would especially like to thank the city of Edinburgh for hosting this national event.
"The city has a long and proud military history, and provides the perfect setting for us all to say thank you to our Armed Forces."
Chief of the Defence Staff, General Sir David Richards, said:
I can assure you that the recognition and thanks given by the people in communities such as yours on Armed Forces Day goes a long way to keep morale at a high level.
Published 25 June 2011