The life of an Army doctor on the front line
Being a doctor based at a patrol base in Afghanistan can present various challenges ranging from the run-of-the-mill common colds, coughs or sprains to the more extreme conditions including trauma injuries or gunshot wounds.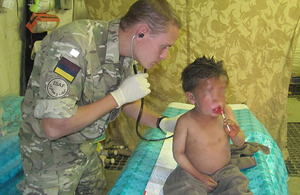 For Captain Christopher Stewart these challenges are even more wide-ranging as he is currently serving on his first deployment to Afghanistan, based at a patrol base in the Nad 'Ali area of Helmand province.
As a doctor with the British Army's 16 Medical Regiment, Captain Stewart operates out of his tented medical facility within the patrol base, with his primary role focusing on the health needs of the soldiers, ensuring they are 'fighting fit' and operationally-effective at all times.
Captain Stewart is living and working at the base alongside troops from 1st Battalion The Royal Irish Regiment.
As the winter weather has gripped the UK, Afghanistan has not escaped from the chill with temperatures at night dropping below zero; a sharp contrast to the scorching heat of the midday sun.
With the extreme weather changes, a substantial proportion of the Medical Officer's job is ensuring preventative measures are in place to safeguard against injuries from operating in such conditions.
Both frostbite and heat stroke can be witnessed in the same 24-hour period due to the wide variations in temperature.
But, of course, troops are also fighting regular battles with the enemy. This means for Captain Stewart that, in addition to treating common and minor ailments, his medical facility is constantly on high readiness to receive trauma casualties resulting from roadside bombs, blasts and gunshot wounds.
Patients with serious wounds are stabilised in the medical facility by a doctor and a combat medical technician, capable of providing life-saving interventions, before being evacuated by helicopter to Camp Bastion.
As well as providing medical care for sick and injured soldiers, British Army doctors also treat Afghan locals requiring emergency care for limb or eyesight related injuries. In the course of his time in Helmand Captain Stewart has treated a number of Afghan children and adults who have suffered injuries as a result of insurgent attacks.
In his first week in Afghanistan Captain Stewart was involved along with colleagues in treating an eight-year-old girl wounded by an insurgent bullet whilst she was working in her father's wheat field.
The girl was carried to the front gate of the patrol base by her uncle before being rushed to the medical centre for assessment. After emergency treatment and painkillers were provided, the girl was evacuated for further surgical treatment at Camp Bastion where the bullet was subsequently removed.
More recently, he treated a young boy who suffered an allergic reaction after being stung by a hornet, administering emergency drugs and painkillers.
Captain Stewart said:
We are always on standby and never know when to expect the next casualty. It is a rewarding job to be able to provide medical care both for the British troops and emergency care for Afghan locals caught up in the fighting.
As well as helping local communities by providing such emergency medical treatment, Captain Stewart and his colleagues are also involved with outreach work. Recently, a health workshop was run at a patrol base in the village of Kushal.
Local community health and education workers from across the area were contacted and invited to the event to share their knowledge and experiences and receive advice and guidance on best practice from each other as well as the British Army's medical experts. A manual, written in the local Dari and Pashto languages, was distributed.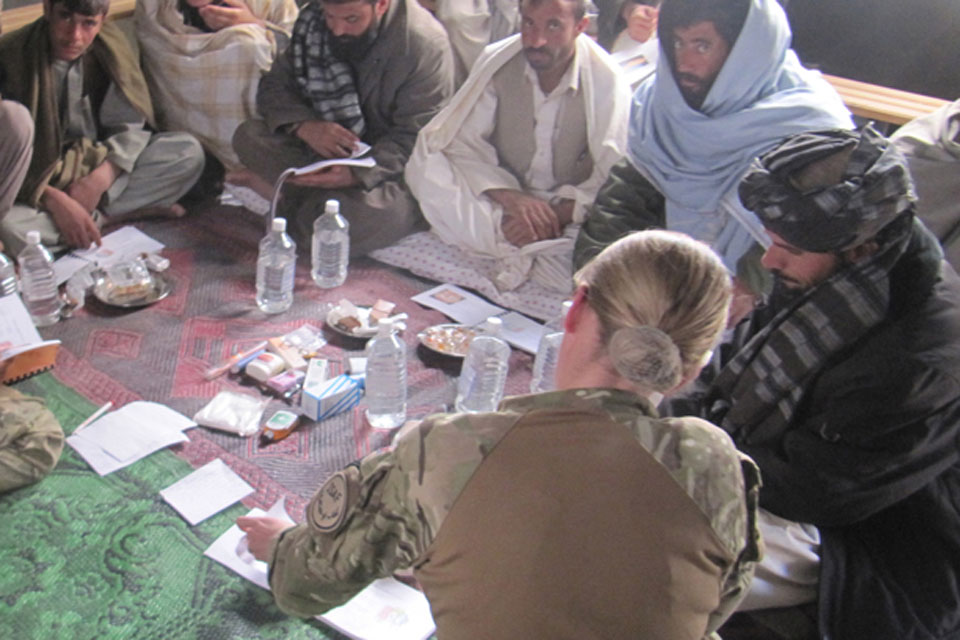 Captain Stewart said:
It was very interesting to share our experiences of healthcare systems with the Afghan locals. They have very similar health concerns to those seen in the UK, such as how to care for a sick child, managing common ailments, and pregnancy care. In addition though, health workers in Afghanistan commonly deal with malaria and other tropical diseases which are less common for us. It was a great learning opportunity for both parties.
Following the workshop, the locals, equipped with their new teaching materials, returned to their villages. The following week, the headmaster at Kushal Kalay school educated some 250 pupils, while other health workers held learning sessions in their local mosques. It was a great result and is already benefiting the local population.
In another effort to improve the health of local people, Captain Stewart has also engaged with a local pharmacist in the same area. He explained:
He was only too happy to open his shop and allow my colleagues and I to have a look around. We enquired about the health services available in the area and about the health problems he sees on a daily basis.

I was pleased to see that the pharmacist had one of the teaching books that we had previously issued and he told us about how he had been using it to educate his customers.
To further improve healthcare provision on the front line, medical skills have been taught to soldiers of the Afghan National Army (ANA) who work alongside British troops to improve security in Afghanistan. The ANA are very receptive to medical teaching and are particularly keen to learn trauma skills and their application on the battlefield. Captain Stewart has also been involved with these efforts.
Published 5 January 2011