World news story
The launch of the training for English Language Teachers in Uzbekistan
British Ambassador attended the British Council event at the Uzbekistan State University of World Languages.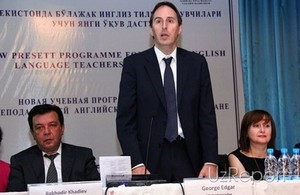 On 19 August Her Majesty's Ambassador George Edgar participated in the opening of a pre-service teacher training week run by the British Council in Uzbekistan at the Uzbek State University of World Languages. More than two hundred participants attend the event, including English language teachers from different parts of Uzbekistan, representatives of the British Council and the Ministry of Higher and Secondary Specialized Education, British language experts, students and journalists.
The objective of the training week is to train 250 English language teachers to teach to a new pre-service teacher training curriculum developed in partnership between the Ministry of Higher and Secondary Specialised Education, the British Council and Norwich Institute for Language Education. From 1 September 2013 all future teacher will be taught to the new curriculum in all pre-service teacher training institutions. External evaluation has judged that the new curriculum meets international standards.
In his welcome speech at the opening ceremony Ambassador Edgar said: "I am very pleased that Britain, through the British Council, is giving practical support to the Government of Uzbekistan in developing and strengthening standards in English language teaching. This week's events are part of the implementation of the Presidential decree on Foreign Languages; but they also reflect a long history of co-operation between the British Council and the Ministry of Higher and Specialised Secondary Education of the Republic of Uzbekistan. I'm confident that the new curriculum, and this week's training, will help Uzbekistan's teachers of English in their important work".
Uzbek-British cooperation in the field of education started in 1996, when a Memorandum on Cooperation was signed between the governments of the two countries and the British Council office opened in Tashkent.
The British Council projects in Uzbekistan aim to support national reforms in the field of education, to create opportunities for professional development and to promote the teaching and learning of English.
Published 21 August 2013