News story
The Hero of Telemark
UK and Norway commemorates 70th anniversary of Operation Gunnerside.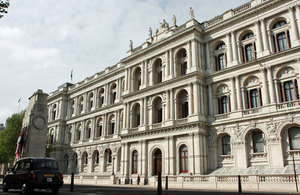 On 26 February a commemoration service took place at the Vemork power plant near Rjukan to mark the 70th anniversary of Operation Gunnerside, in which a team of nine Norwegian commandos, trained in the UK, succeeded in destroying the power plant with the loss of 500 kg of heavy water. Four of the commandos had survived the winter on the remote and inhospitable Hardanger Plateau.
The original plan for them to link up with 30 Royal Engineers as part of Operation Freshman failed, when the gliders carrying the engineers crashed in icy conditions in November 1942. 41 British service personnel, including air crew, died; either in the crashes, or executed by the Gestapo.
Gunnerside was later evaluated by the SOE as the most successful act of sabotage in all of World War II. It has remained in public consciousness in part due to regular screenings of the 1965 film "The Heroes of Telemark" starring Kirk Douglas.
Guests at the commemoration included Norwegian Chief of Defence, General Harald Sunde; DSACEUR (Deputy Supreme Allied Commander Europe), Sir Richard Sheriff; Junior Defence Minister Eirik Øwre Thorshaug; and representatives from DSF and 22 SAS. The star of the show, however, was undoubtedly Joachim Rønneberg who commanded Operation Gunnerside, and is the last surviving member of the nine commandos. Now 93 years old, Rønneberg was accompanied by his wife, children and grandchildren.
The British Embassy was represented by Deputy Head of Mission, Charles Hill, who made a commemoration speech Vermork Speech (PDF, 103KB, 2 pages) alongside General Sunde.
Published 26 February 2013