The Foreign Secretary William Hague met the Dutch Foreign Minister Frans Timmermans
The Foreign Secretary and the Dutch Foreign Minister discussed the situation in Gaza, the broader Middle East Peace Process and Syria.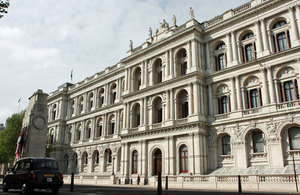 This was Mr Timmermans' first visit to London since becoming Foreign Minister on 5 November.
At the top of the Ministers' agenda was the situation in Gaza and the broader Middle East Peace Process.
The Foreign Secretary highlighted the need for strong international action to help build on the ceasefire agreed last week. The Foreign Secretary also raised the importance of international recognition of the Syrian opposition and welcomed Dutch input to European External Action Service work on supporting Syrian Civil Society.
The Ministers welcomed continued bilateral activity on the UK-Netherlands Strategic Business Dialogue, helping to identify commercial opportunities for UK businesses and tackling barriers to trade.
During his visit Mr Timmermans also met the Minister for Europe, David Lidington.
Published 28 November 2012