The Foreign Secretary attends the Kabul Conference
The Foreign Secretary attended the "Heart of Asia" Ministerial Conference in Kabul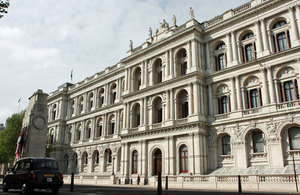 On Thursday 14 June, the Foreign Secretary attended the "Heart of Asia" Ministerial Conference in Kabul, joining representatives from Afghanistan, its regional neighbours and supporting countries and organisations. The conference is part of the Istanbul Process on Regional Security and Cooperation for a Secure and Stable Afghanistan.
Prior to the conference, Mr Hague underlined the UK's support for the Istanbul Process and applauded the leadership shown by the Islamic Government of Afghanistan in bringing together regional leaders to discuss issues affecting their mutual security and prosperity.
The Foreign Secretary was invited to make an intervention at the conference. Thanking President Karzai for hosting this key event he stressed how, increasingly, the success of Afghanistan will be in the hands of the region, underlining the vital role of regional cooperation in ensuring sustainable prosperity and security for the whole region. Mr Hague noted the importance of tackling issues of mutual concern such as counter narcotics, counter terrorism and disaster management collectively, and reaffirmed the UK's strong commitment to regional cooperation measures.
In the margins of the conference, Mr Hague attended a number of bilateral meetings; a range of regional and international issues were discussed.
Published 14 June 2012