The Foreign Secretary and the Film Star: High Commissioner's Blog
British High Commissioner Ben Llewellyn-Jones OBE blogs about Foreign Secretary William Hague and UNHCR Special Envoy Angelina Jolie's visit to Rwanda.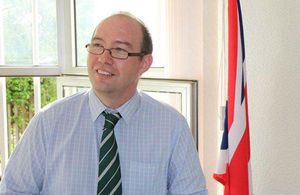 Weeks like this one remind me what a privilege it is to represent my country as High Commissioner to Rwanda. Not only did I accompany the UK Foreign Secretary, Rt Hon William Hague MP, and the world-famous UN Special Envoy and Oscar-winning actress Angelina Jolie, on their visit to Rwanda, but I got to help with their mission to put an end to sexual violence in conflict.
The visit was a key element in the Foreign Secretary's Preventing Sexual Violence Initiative (PSVI), which is working to address and prevent the use of sexual violence in conflict by reducing impunity and bringing those responsible to justice. The Foreign Secretary launched PSVI last year, jointly with Angelina Jolie. Ms Jolie has devoted considerable time to her humanitarian work with refugees and victims of conflict over the past ten years. This is even more impressive when you remember that she is not only one of the world's most in-demand actresses, but also a full-time mother. Given her interest in these issues, perhaps it was not surprising that her directorial debut in 2011, In the Land of Blood and Honey, depicted the experiences of women in the infamous rape camps of the Bosnian war in the 1990s. Visiting the genocide memorial in Rwanda with her, I was struck by the strong emotional connection she feels with the victims of violence.
For the UK, the PSVI agenda will be a key priority as it takes on the Presidency of the G8 in 2013. This visit to Rwanda and the DRC comes just three weeks before the Foreign Ministers of the United Kingdom, the US, France, Canada, Japan, Germany, Russia and Italy gather in London for the annual meeting of the G8. They are calling on the G8 to agree landmark measures to secure justice for survivors of sexual violence and deter perpetrators, including a new International Protocol on the Documentation and Investigation of Rape and Sexual Violence, agreement that rape and sexual violence constitute grave breaches of the Geneva Convention so that universal jurisdiction can apply, and practical commitments to help affected countries.
William Hague and Angelina Jolie's visit to this region to promote PSVI this week had a special poignancy. The initiative emphasises the need to bring perpetrators to justice. The Foreign Secretary has said that "where there is no justice, the seeds of future grievance and conflict are sown". With every perpetrator of sexual violence or other war crimes that is made to face justice, the culture of impunity is reduced. Last week I joined my US and Dutch counterparts to escort International Criminal Court (ICC) indictee Bosco Ntaganda from the US Embassy, where he had handed himself in, to Kigali airport, from where he was flown to the ICC in the Hague. Ntaganda is accused of crimes including the use of rape in war zones in the Eastern DRC. I hope his trial will send a powerful signal to armed groups that there can be no hiding place for those guilty of using rape as a weapon of war.
Published 28 March 2013