News story
The first English EMFF FLAG launch events get underway
The Marine Management Organisation (MMO) supports launch event.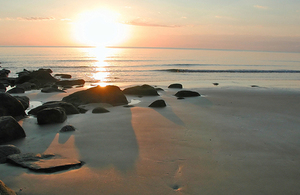 The MMO is delighted to support the launch events of two of our European Maritime Fisheries Fund (EMFF) Fisheries Local Action Groups (FLAGs) over the next few days.
The launch events mark the next stage in the process after each of the successful English FLAGs were issued £800,000 under the EMFF scheme to deliver their community led local development strategies in England. The MMO is pleased to be able to attend both events.
Holderness FLAG will hold their launch event on 27 January 2017 at The Spa, Bridlington and Hastings FLAG will launch on 30 January 2017 at The Stade, Hastings.
Commenting on the FLAG launches Andrew Wells (MMO Board Member) said:
"It is very rewarding for the MMO to see Holderness and Hastings formally launch their FLAGs, knowing that they will use the knowledge of local stakeholders to tackle fisheries issues at a local level.
The journey the FLAGs have taken from application to refinement to panel has been a challenging one and it is a testament to the FLAGs that they were successful in securing EMFF funding. They can now use that funding to benefit fisheries communities.
I very much enjoyed reading about the Holderness FLAG journey to this point on our marine developments blog and I am looking forward to attending the Hastings FLAG launch in person on 30 January 2017."
Published 27 January 2017