World news story
The British Embassy marked the International Day for the Elimination of Violence against Women
The British Embassy hosted a high-level reception to mark the International Day for the Elimination of Violence against Women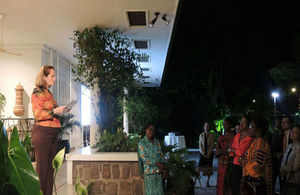 On 25 November 2013 the British Embassy hosted a high-level reception to mark the International Day for the Elimination of Violence against Women. The event was attended by the DRC's Minister of Gender and other government officials, Members of Parliament, Senators, members of the civil society, the diplomatic corps and representatives of UN agencies.
In her speech, Ambassador Diane Corner highlighted the UK's work to end the use of rape as a weapon of war in the DRC and around the globe. She outlined action taken through the Preventing Sexual Violence Initiative launched in 2012 by the British Government. This includes the G8 Foreign Ministers' historic Declaration on Preventing Sexual Violence in Conflict adopted in April 2013 under the UK's G8 Presidency, and the New York Declaration of Commitment to End Sexual Violence in Conflict made in September. The New York Declaration has been endorsed by 135 countries so far including the DRC. It expresses a shared commitment that no peace agreements should give amnesty to those who have ordered or carried out rape, and there should be no safe havens for perpetrators of sexual violence in armed conflict.
She said the UK would now turn these political commitments into practical action.
Ambassador Corner noted that the UK's aid programmes all sought to ensure that they responded to and most importantly addressed the underlying causes of violence against women and girls.
Ambassador Corner concluded her speech by stressing that violence against women was catastrophic for the DRC's development. She said:
When you live and work in this country, you recognise the devastation wreaked by violence against women. We see how it prevents women from fulfilling their potential. It damages women, their families and whole communities.

An attack which may last only minutes has an impact which can last generations. Violence against women has had a catastrophic impact on development in the DRC, preventing this country from fulfilling its amazing potential. Wherever we come from, around the world, we all need to take a stand in saying that this violence against women has got to stop.
Published 26 November 2013