Press release
The Croydon hub: office space for civil servants during Olympics
Up to 150 civil servants from across Whitehall can work from a new office space in Croydon during the Olympics and Paralympics.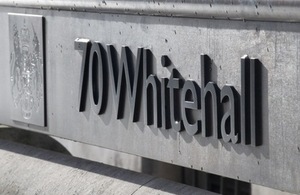 Up to 150 civil servants from across Whitehall will be able to work from a newly created office space in Croydon - "The Croydon hub" - enabling them to get on with their jobs without travelling into central London during the Olympics, Minister for the Cabinet Office Francis Maude announced today.
A vacant floor in the government-owned building Southern House has been fitted out for the purpose. It has been transformed from an empty shell to a fully-functioning office at minimal cost, by using the IT systems already in place and recycled furniture from the offices of the recently closed Central Office for Information (COI). The transformation was achieved for under £6,000 and - including breakout spaces - will enable up to 150 civil servants a day to work there. 
The space will be available not only for the period of the Games, but for months afterwards to test out new ways of working more flexibly, so delivering an important legacy in encouraging smarter, more flexible working for the Civil Service in the future.
The spaces at Southern House are part of around 500 new alternative work spaces that have been created for use during the Games outside central London. And, with hundreds of additional spaces under negotiation, that number is set to rise.
These include 50 spaces in the Department for Transport (DfT) offices in St Leonards on Sea, 30 in Highways Agency offices in Bedford, 40 in DVLA offices in Dorking and a potential 100 spaces in Reading.
Minister for the Cabinet Office Francis Maude said:
The Olympic and Paralympic Games will be a great moment for this country - and we're not going to let anything get in the way of that. On the busiest days up to 800,000 ticketed spectators will be making an extra three million trips in London on public transport. Needless to say, this presents a huge logistical challenge.

This Croydon hub will help reduce pressure on London's transport network during the Olympics. But we want to drive improvements beyond the summer to ensure that the Civil Service learns the lessons of the best-practice in the private sector, to improve public services for users and the efficiency of Government for the taxpayer.
Jon Rouse, Chief Executive, London Borough of Croydon, said:
I am pleased to see government confirming Croydon as a strategic centre for employment by setting up an 'office hub', for the Olympics and hopefully beyond.

Substantial numbers of civil servants have been based in Croydon for a long time, and we welcome the intention to continue. The 'hub' at Southern House is a sign of how in future work can be delivered for the government from places outside the Whitehall centre, using modern technology and flexible styles of working.
Stuart Banks, a Cabinet Office employee who recently tested the new hub in Croydon, said:
I think I was one of the first civil servants to use the new hub in Croydon.

While there I successfully conducted a phone conference with colleagues in Manchester and made good use of the wifi connection.

The office space itself is very light and airy with fantastic views over Croydon. And it only took me 15 minutes to travel from home. There's plenty of desk spaces, three meeting rooms and some break-out spaces.

Question now is: how will I split my time between here and Whitehall?
Notes to editors
At the last count (as of March 2011) there were approximately 40,000 civil servants working in central London and a total of 80,000 in Greater London.
On the busiest days up to 800,000 ticketed spectators will be making an extra 3 million trips in London on public transport.
Southern House is currently used by HMRC and TSOL and used to house British Rail.
Published 13 July 2012