World news story
The British Embassy launches the 'Know Before You Go' Campaign
To reduce preventable consular cases, the British Embassy launched the 'Know Before You Go' Campaign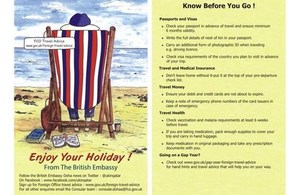 The British Embassy today launched the 'Know Before You Go' Campaign ('KBYG') which urges British nationals in Qatar to prepare in advance of their forthcoming summer holidays.
The main aim of the campaign is to help reduce preventable consular cases. From hospitalisations to arrests and lost passports, the issues are varied, but the common thread is often a lack of preparation.
British Vice Consul, Ann Munro, said:
The summer holiday period is almost here. Most holidays leave nothing but happy memories, but sadly this isn't always the case. A minor accident, lost camera, unexpected illness or worse, can unpleasantly affect your travel experiences, but a few simple steps can help you get the most out of your trip. With this in mind, the Consular Department have produced a 'Know Before You Go' postcard guide that features essential travel tips which should ensure that you are suitably prepared to enjoy your well earned holiday.
British Nationals can follow the 'KBYG' campaign on the Embassy's Facebook and Twitter pages. Details can be also found in the upcoming edition of the Embassy newsletter which British Residents can subscribe to.
Published 18 May 2015