World news story
The British Embassy and civil society organisations call for the abolition of the death penalty in Guatemala
The British Embassy jointly with a number of social organisations oppose the death penalty in Guatemala and have called for the abolition of this punishment which contravenes the most basic human right to life.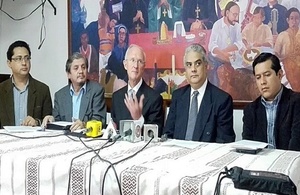 To mark the International Day for the Abolition of the Death Penalty which is held every year on 10th of October, 13 organisations including the Human Rights Office of the Archbishop of Guatemala (ODHAG) and the British Embassy in Guatemala issued a statement. This statement was also signed by the Human Rights Ombudsman (PDH), the International Commission of Jurists, the Association for the Prevention of Torture and the International Centre for Human Rights Research (CIIDH), among others.
The signatories of the statement pointed out that it is false to claim the death penalty is required to stop the violence that affects Guatemalan society, and highlighted the fact that the measure does not solve the underlying problems. They also stated that any mistake made by the justice system in condemning someone to death is irreversible and irreparable.
The United Kingdom is currently financing a project that aims to strengthen the arguments against the enforcement of death penalty in Guatemala, working with decision makers and civil society organisations to promote an abolition initiative or a continuation of the existing moratorium. This initiative is implemented by ODHAG.
To mark the UK participation in the event, the British Ambassador to Guatemala, Thomas Carter, said:
The United Kingdom opposes death penalty as a fundamental principle. There are people that want to see it brought back, but the Government has demonstrated that this is not a solution to criminality. We call on the authorities' to show leadership on this matter in order to protect essential human rights and to strengthen the justice system.
Published 16 October 2015