Press release
Anti-Corruption Commission unveils 'Pay No Bribe' citizens' reporting platform
Innovative 'Pay No Bribe' reporting platform launched in Sierra Leone to tackle everyday corruption, supported by DFID.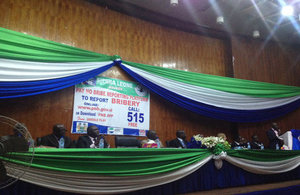 The Government of Sierra Leone (GoSL) has launched a major citizen action campaign against corruption in the public sector. The initiative is supported by DFID Sierra Leone through its Anti-Corruption programme, and implemented by the Sierra Leonean Anti-Corruption Commission (ACC) with support from Coffey International.
'Pay No Bribe' (PNB) is an innovative online and telephone reporting platform, where citizens can anonymously report incidents of everyday corruption and bribery. The system will collect data on a public website www.pnb.gov.sl, which will allow people to see how much people are paying, for what and where the most issues are reported. A free hotline has been set up, and with an increasing number of people in Sierra Leone using smartphones, the system also allows people to download an app to report instantly. The system enables people to report when they paid a bribe, when refused to pay, or if they met an honest official. There is also a dedicated hotline phone number. Citizens without access to phones or internet will be supported to make reports through civil society organisations across the country.
PNB is modelled on other successful systems in Ghana, Uganda, and India. Uniquely however, this system and the campaign is led and managed by the Anti-Corruption Commission, with a commitment from GoSL to take action on the reports that come in through the relevant ministry or agency. The Chief of Staff in the Office of the President oversees the programme, and will make links into the relevant organisations to ensure that action is taken.
This is part of DFID's work to support the governance sector of the Presidential Recovery Priorities, a major post-Ebola recovery effort driven by the President.
Why is it needed?
Citizens in Sierra Leone face challenges to accessing basic services such as healthcare, education, electricity connections and in dealing with the police, including demands for bribes. It is the poorest who are hit the hardest by this, as demands for bribes can make entitlements such as free healthcare or medicines unaffordable.
The Commissioner of the Sierra Leone ACC, Mr Ady Macauley, said:
"The 'Pay No Bribe' Campaign puts the weapons to beat the evil of corruption in Sierra Leone into the hands of the public. It allows individuals to tell us in confidence when they have been asked to pay a bribe for health, education, water, power and police services."
How will the data be used?
PNB it is a data capturing tool allowing the Anti-Corruption Commission (ACC) to collect data and map corruption trends. They will share this information each month with relevant GoSL ministries, departments and agencies. They will be expected to use this data to address corruption at source: either through administrative action or systems and policy reforms.
The ACC will regularly publish data reports, spotlighting trends among public services, as well as progressive action taken by ministries, departments and agencies. Members of the public, media organisations, CSOs and other interested parties can also access data and action updates via the PNB website.
Published 27 September 2016